IBMS members shortlisted for AHAwards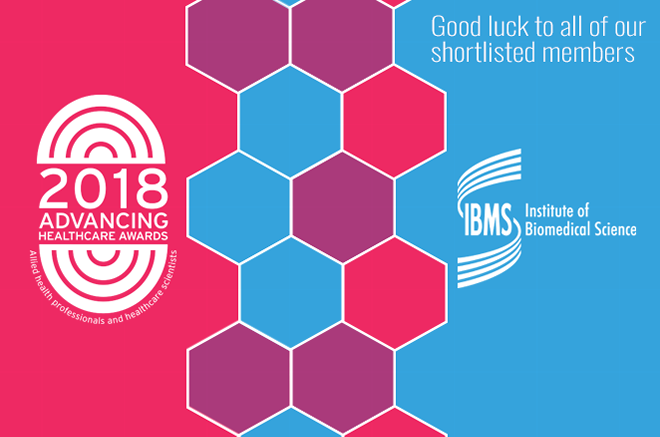 18 April 2018
Congratulations to all our shortlisted members for the AHAwards
Now in their 12th year, the Advancing Healthcare Awards (AHA) will be held on 20 April in London.
Organised by Chamberlain Dunn, these awards aim to recognise and reward projects and professionals that lead innovative healthcare practice and make a real difference to patients' lives. This is also the first year that the IBMS has sponsored an award, for inspiring the biomedical workforce of the future.
A number of IBMS members were nominated and some were shortlisted for these awards, including:
Viapath Award for innovation in healthcare science
Ian Clarke and Yvonne Cole, Northern Health and Social Care Trust
The Scottish Government's award for Driving improvement, delivering results
Mairiead MacLennan on behalf of the microbiology team at NHS Fife
Health Service Laboratories' Biomedical Scientist of the Year Award
Malcolm Robinson, Western Sussex NHS Hospitals Foundation Trust
Shahid Muhammad, North Bristol NHS Trust
IBMS award for Inspiring the biomedical workforce of the future
Katie Berger and Ian Davies, University Hospitals of North Midlands
The AHAwards are open to allied health professionals, healthcare scientists and those who work alongside them in support roles. The awards are unique in that they are UK-wide and cover all these professional and specialists groups whose achievements so often go unnoticed.
We wish good luck to all our members who were nominated and shortlisted for these awards.
Back to news listing