IBMS members win at Advancing Healthcare Awards 2018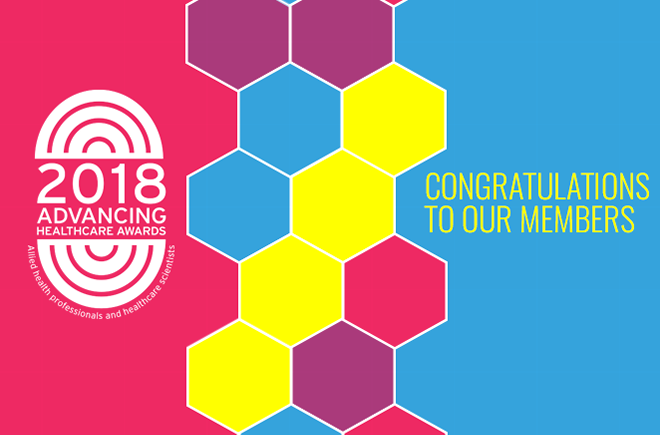 20 April 2018
Congratulations to all shortlisted and winning IBMS members
20th April saw the 12th annual ceremony of the Advancing Healthcare Awards (AHA). Organised by Chamberlain Dunn, these awards seek to recognise the achievements of healthcare professionals. This year the IBMS sponsored the award for 'inspiring the biomedical workforce of the future' to recognise and reward people committed to inspiring the next generation of biomedical scientists.
A number of IBMS members won awards, including:
Biomedical Scientist of the Year and Overall winner
Malcolm Robinson, Western Sussex NHS Hospitals Foundation Trust
Inspiring the biomedical workforce of the future
Ian Davies and Katie Berger, University Hospitals of North Midlands and Staffordshire University
The Scottish Government's award for Driving Improvement, delivering results
Dr Mairiead MacLennan, Lisa Logan and Stephen McGlashan on behalf of the medical microbiology team at NHS Fife
Dr Mairiead MacLennan said, "We are grateful to our wider microbiology team supporting this project and also very much appreciate the positive responses from our nursing colleagues in both the emergency department as well as infection control team to our initiative. Without the buy-in from the nursing staff using the near patient testing it would not have been the success it has been."
Alison Geddis, IBMS President commented, "This is a great achievement for our members. I am delighted that our members have received recognition for their exceptional contributions to biomedical science."
Congratulation also to IBMS members who were shortlisted:
Ian Clarke, Yvonne Cole, Yvonne Cole, Elaine-Donald Magill and Valerie Hinch, Northern Health and Social Care Trust
Ruth Evans, Jessica Gill, Jennifer Bennett and Julie Molloy on behalf of the scientific and clinical training team, NHS Blood and Transplant
We are proud of all of our members who were nominated for AHAwards this year, and we wish warm congratulations to them for receiving recognition for the valuable work they do.
Back to news listing