IBMS members win at NI AHAwards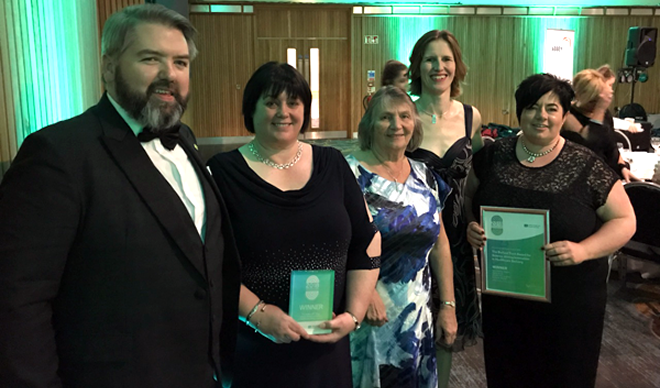 12 November 2018
H&I team win for their kidney crossmatching project
The Northern Ireland Advancing Healthcare Awards (AHA) were held on 7 November. This year's theme was 'Better Living Matters'. Organised by Chamberlain Dunn, they consist of a major conference and awards ceremony for allied health professionals and healthcare scientists in Northern Ireland.
The Belfast Trust Award for Science Driving Innovation in Healthcare Delivery was won by IBMS members Elaine Boyle, Jeanie Martin and Gerry Lennon, as well as their colleagues Dr Aisling Courtney, Dr Jennfier McCaughan and the H&I team.
The team won for their innovative kidney crossmatching project, which involved virtual crossmatching for patients awaiting deceased donor transplantation. By implementing the technology from Luminex technologies, a virtual antibody profile can be predetermined for patients awaiting transplants.
This allows compatible donor and recipient pairs to be matched with a high level of success, so that when a kidney does become available, patients don't require the lengthy process of a pre-transplant crossmatch and can go straight to the operating theatre. This project reduces the time taken for healthcare professionals and patients requiring transplants, and this year 85% of kidney transplants have gone ahead from virtual crossmatch results in their hospital.
H&I Lab Manager and Senior Biomedical Scientist Elaine Boyle said,
"We are delighted with the award and recognition of the innovative work undertaken by the whole team to improve transplant opportunities for renal patients in NI."
Biomedical Scientist Bernie Magee added,
"It has been a privilege to be part of the team who have introduced this innovation and while winning an award is fantastic, what is even more personally rewarding is having the chance to help improve the quality of life of patients awaiting transplantation. I also am really pleased that the awards process provided a fantastic opportunity to promote awareness of the positive impact that we all have as Healthcare Scientists."
A number of IBMS members were shortlisted for awards. These include Stephen Kane, Giselle McKeown, Gerry Lennon and Nichola Crea.
The awards also got attention on social media:
This is a key new component for the Northern Ireland kidney transplant program and means we can reduce the time a kidney sits in ice by using virtual cross matching. Important to mention Dr Aisling Courtney who's the clinician behind this innovation @BelfastTrust https://t.co/4zfzih6sKK

— Damian Fogarty (@DamianFog) November 8, 2018
More updates about the awards can be found online and by following the Twitter hashtag #AHANI2018.
It gives us great pleasure to see our members recognised, and we'd like to wish all our members who won or were nominated a huge congratulations for their achievements.
Back to news listing