IBMS members win Team of the Year award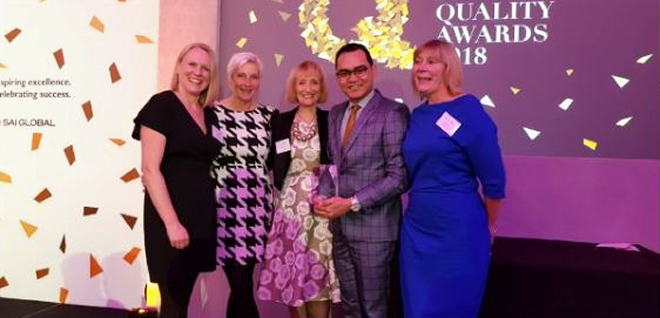 29 November 2018
IBMS members recognised at this year's International Quality Awards
The laboratory team at Hull and East Yorkshire Hospitals NHS Trust were awarded Quality Team of the Year at the 2018 International Quality Awards. Three biomedical scientists make up part of this outstanding team: IBMS members Amy Duckles FIBMS, Kay Anderson CSci FIBMS and Ernesto Jr Quider MIBMS.
The International Quality Awards is a global competition that celebrates excellence in various sectors promoting quality systems across the globe. Judged via a rigorous evidence-based process, these awards acknowledge the contribution of quality systems in enhancing the reputation of organisations around the world.
The judging panel stated:
"The pathology team won for the rigorous quality structures in place across their laboratories. The team provides a high level of clinical and scientific services by working within a culture of transparency and a shared drive for continuous improvement."
Laboratory manager Chris Chase said:
"It is the first NHS trust and first pathology team who had achieved this recognition, and we would like to dedicate this award to raise the profile of the NHS and importantly, the biomedical scientists and pathology service team in general. This award is for all laboratory staff working in the NHS on its 70th birthday, highlighting how important our job is. I couldn't be happier for Ernesto and his team."
Pathology Quality Manager Ernesto Jr Quider added,
"We are incredibly humbled and delighted to know that we are the first to get nominated from pathology or the NHS in this global competition."
On behalf of the Institute, we congratulate our members on this well-deserved award.
Pictured from left to right: Amy Duckles, Quality Link/Acting Chief BMS- Cellular Pathology Dept.; Kay Anderson, Quality link/Chief BMS-Microbiology Dept; Estelle Clark, Executive Director of Policy and Chair of the Judges, CQI; Ernesto Jr N Quider, Pathology Quality Manager; Mandy Bryan, Quality Coordinator-Blood Transfusion Dept.
Back to news listing