IBMSpod - download, subscribe, listen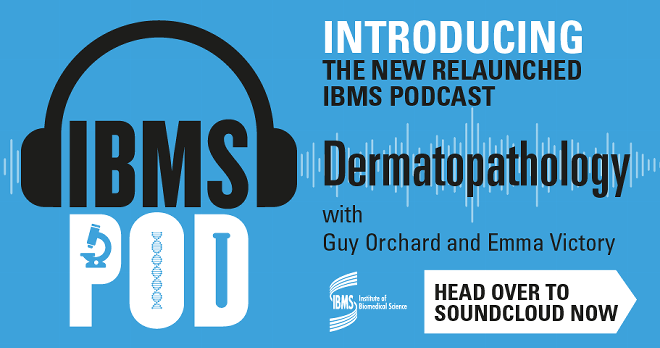 4 November 2020
The IBMS's monthly podcast for members will return this November with an exciting new format!
Formerly IBMS Biopod, the podcast is relaunching as IBMSpod.
Listen to the first new episode NOW
Episode 1 features AHA Biomedical Scientist of the Year Guy Orchard & certified Beer Judge Emma Victory! Listen to it and subscribe now via:
What's new for IBMSpod?
Each episode will feature 3 new segments, new presenters and thought-provoking interviews with leading experts from across the field. They'll be discussing all things Biomedical Science: from the intricacies of diagnostic laboratory work, research & innovation, teaching, writing, to involvement with the IBMS, media work; as well as their motivations & passions for the profession.
Editor of the IBMS's monthly magazine "The Biomedical Scientist" Rob Dabrowski will return as co-host and be joined by IBMS Science Communications Officer Jordan Ross and Communications Assistant Helen Blackbourn.
Three new segments
IBMS News - If you're feeling behind on all the latest developments from the IBMS, our news segment will bring you up to date with the most recent headlines from across the IBMS in a series of concise, but informative updates.
Social Media "Your Questions Answered" - This new feature will give members the opportunity to get involved directly by putting questions to our expert biomedical science guests. Members can submit questions before each episode via our social media channels or by email via communications@ibms.org - we'll then ask as many as we can to our guest on the podcast. Be sure to find and follow us on Facebook, on Instagram and Twitter our handle is @IBMScience.
#LabLife - What's day-to-day life like for a Biomedical Scientist? What do you enjoy most? What issues do you face? How do they differ from lab to lab? Does laboratory culture affect productivity? How can you be most productive while protecting wellbeing & maintaining an adequate work-life balance? What are your most marvellous hobbies outside the lab? Through a series of mini-interviews with our members with the most extraordinary of pastimes, we'll go beyond the science to look at the profession from a whole new perspective.
You can listen to IBMSpod directly from our website, or subscribe via Apple Podcasts/Spotify to have each episode automatically downloaded to your smartphone, tablet or PC to keep up with us wherever you are! Why not listen while commuting to work, running in the park or even when cooking supper? It's a great CPD opportunity!
Back to news listing