IBMS response: 'Our Plan for Patients'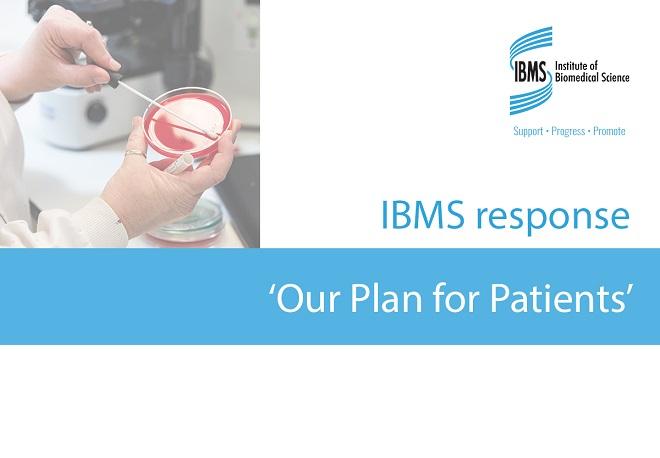 29 September 2022
IBMS responds to Thérèse Coffey MP's policy paper 'Our Plan for Patients'

Introduction

On Thursday 22nd September, Rt Hon Thérèse Coffey MP made her first statement in the House of Commons as Secretary of State for Health and Social Care. She launched the policy paper 'Our Plan for Patients' – which follows the priorities she set out when first appointed; Ambulances, Backlogs, Care, Doctors and Dentists.

The paper will sit alongside the NHS Long Term Plan, the upcoming workforce plan and the ongoing focus on social care as part of the government's agenda. The policy paper also adds details to the following areas:
· Patients: informed and empowered
· Prevention: supporting healthier lives
· Primary care: meeting public expectations
· Performance and productivity: partnership with NHS England
The paper commits to informing and empowering patients to make decisions for their own care through publishing data and performance indicators on local NHS trusts in easy-to-use formats. This data on waiting lists for elective care and general practice appointments will be used to share best practice on how to improve the care delivered to patients across the health system.


What is relevant to our profession and what is the IBMS Response?

The Department of Health and Social Care has committed to eliminating waits of over 18 months by April 2023, over 15 months by March 2024, and over a year by March 2025. However, the Queen's speech, delivered by King Charles III (prior to acceding to the throne) on 11th May 2022, committed to "95 per cent of patients needing a diagnostic test will receive it within 6 weeks" by March 2025.

It was also stated in the Queen's speech in May that 17 million more diagnostic tests will be provided over the next three years through 160 new community diagnostic centres (CDCs).

Although a large proportion of these 95% and 17 million figures relate to diagnosis via imaging rather than laboratory services, they are still very stark goals for the diagnostic services - which will need serious workforce planning and investment in order to meet the testing requirements for the 6.73 million people currently waiting for consultant led elective care.

Quicker, easier access through a 'one stop shop' will lead to earlier diagnoses, better outcomes for patients and the potential to save lives.

The CDCs are likely to generate significant increase in workload for our local and regional pathology laboratories, and change in the way it is generated. To ensure efficiency and quick turnarounds, adequate collaboration with existing networks and IT interoperability is essential.

CDCs will also provide new challenges, not least ensuring patients receive the right test at the right time, delivered to a high clinical standard. There will need to be investment in fully linked up, standardised and interoperable laboratory IT systems - capable of receiving, sharing and delivering vital diagnostic test results to clinical pathways across the UK.

Therefore, the CDCs need to be introduced with sufficient resources - in terms of staffing, IT provision and connectivity with other systems (such as pathology networks and GP practices), and Health and Care Professions Council (HCPC) registered biomedical scientists (and other laboratory experts) should be involved in the selection of equipment, quality assurance and governance of diagnostic devices when used for patient care.

The IBMS welcomes the opportunity to work with governments in all four nations in order to offer the profession's expert advice and ensure that these new changes in the patient pathway are not disruptive to patient outcomes and that the new methods of working result in better, not worse, patient care.


Conclusion

In order to meet the government's ambitious goals for our diagnostic services, there must be investment in the workforce, in new ways of working and in interoperable IT systems, and we must use the existing expertise of our diagnostic workforce when setting up the new CDCs.

However, until the government publishes its long-term workforce plan, it is difficult to comment any further. The Patient Plan offers relatively little new information regarding how the government intends to support the broader NHS workforce.

As ever, the IBMS is actively involved in policy work on behalf of the profession: reaching out to MPs, engaging with stakeholders and third-party groups, and participating in a variety of relevant thought leadership opportunities. We are prepared to work further and deeper with government across the four nations to increase the capacity, reach and efficiency of the UK's diagnostic services and to ensure the best outcomes for patients.
Back to news listing