IBMS sponsors STEM for Britain Awards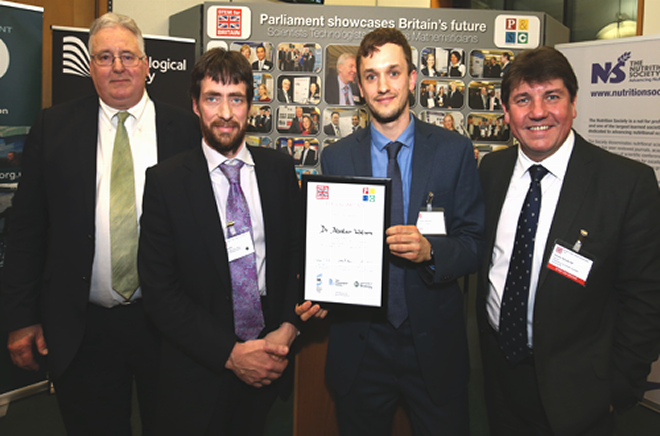 14 March 2018
The IBMS sponsored the silver and bronze medals at the STEM for Britain awards
Held on 12 March at the House of Commons, STEM for Britain is the annual poster competition featuring presentations by Britain's early-stage researchers in STEM fields.
STEM for Britain was established by Dr Eric Wharton to encourage early career scientists to interact with their MPs and to provide a platform to showcase their research in Parliament. This annual competition is attended by MPs who come to support the event and learn more about the research of the presenters.
On the day, IBMS Council Member David Wells and IBMS Head of Registration and Training Jocelyn Pryce both attended this event. Amongst the MPs who attended were Stephen Metcalfe MP, Chairman of the Parliamentary and Scientific Committee as well as Dr Stephen Benn. Pictured above from left to right is Dr Stephen Benn, David Wells, bronze medal winner Alastair Watson and Stephen Metcalfe MP.
The IBMS is pleased to sponsor the silver and bronze awards for the biosciences category and has been a proud sponsor of these awards since 2012.
The winners of the awards include:
Gold medal – Maria Karabova, King's College London, for her poster on 'Early life exercise produces enduring benefits on hippocampal-dependent memory in ageing mice'
Silver medal – Dr James Larkin, CRUK/MRC Oxford Institute, University of Oxford, for his poster on 'Brain tumour diagnosis through urine metabolic analysis'
Bronze medal – Dr Alastair Watson, University of Southampton, for his poster on 'Development of synthetic surfactant proteins A and D to prevent lung diseases in babies'
Presenting the awards, David said:
"The IBMS is delighted to sponsor the STEM for BRITAIN Awards again this year. It was a privilege to meet so many future leaders in science. As well as winning the prizes for best scientific poster each award winner will receive a year's free IBMS membership. We look forward to welcoming these researchers to the IBMS and following their careers and future successes closely."
We wish these researchers great success in their careers and offer warm congratulations on winning these awards.
Back to news listing