IFBLS 33rd World Congress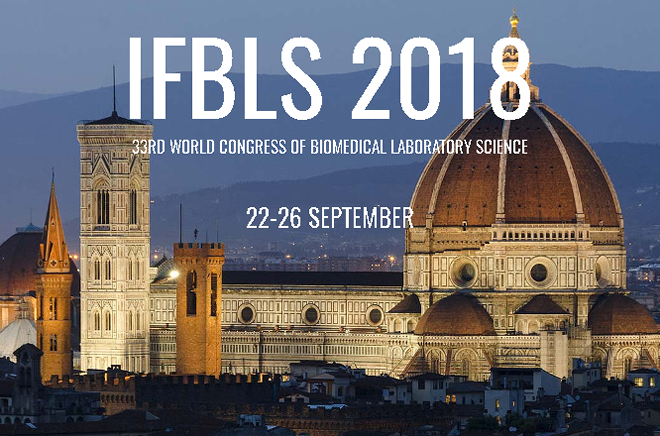 22 September 2018
The 33rd World Congress of the International Federation of Biomedical Laboratory Science will be held 22nd through 26th September 2018 in Florence, Italy
In the spirit of international collaboration, IBMS Deputy Chief Executive Sarah May is presenting at the IFBLS's 33rd World Congress CPD symposium on "The Growing Significance of CPD" - which IBMS Executive Head of Education Alan Wainwright is also chairing. The title of her talk is "Is your CPD fit for purpose?". Alan is also presenting at an education session on "Learning Outcomes and Competent Practice". Both will be involved in chairing workshops, judging posters and oral presentations, and facilitating the Student Forum.

As a member of the Board of Directors and Chair of the Development Committee, Alan has responsibility for the Student Forum and provides feedback for the Member Liaison Strategy and the International Standard Classification of Occupations (ISCO) Task Group. He is also seeking re-election to the Board of Directors and is grateful to the Institute for supporting him in this opportunity to use his knowledge and experience to contribute to the work of IFBLS and further the reputation of the Institute as a leading organisation in biomedical science.

For those who couldn't make it to Florence, here are the abstracts for Sarah and Alan's presentations.


Is your CPD fit for purpose?
Sarah May
Continuing professional development (CPD) is a well-established in professional practice. It is the means by which professions across the world ensure their knowledge and skills remain up to date and relevant to the changing needs of professional practice. Much effort has been spent on emphasising the broad and flexible nature of CPD in order for it not to be seen as only applicable in the context of formal structured training or lectures. This has been emphasised by points based schemes that award a specific number of points or credits for a range of activities.
While this has doubtless helped the widespread acceptance of CPD as a professional responsibility there is the risk that its principle value as a way of maintaining minimum standards of competence and therefore contributing to the quality and reputation of a profession may be reduced by activities that may be irrelevant or at an inappropriately low level.
The relationship between CPD and standards for professional registration has brought in to focus the need for CPD to be selective, relevant and appropriate to the role of the individual registrant and the services they deliver. Key to helping ensure individual CPD is meaningful is a reliable process for auditing and assessing registrants, providing guidance and, if necessary, imposing sanctions for non-compliance.
We should consider CDP audit as a means for identifying examples of good professional practice but also for identifying and addressing poor performance. We should also look at the realities of ensuring a CPD audit is fit for purpose in respect of sample size, sampling frequency, the resources required, and the potential implications of imposing sanctions. One of the biggest challenges to a successful audit process is acceptability and the burden it places upon registrants if not implemented fairly and appropriately. We must also consider the basic requirements of a successful audit process and highlight the benefits and challenges of getting it right.
Learning Outcomes and Competent Practice
Alan Wainwright
Professional practice in biomedical laboratory science is fundamental to patient healthcare and requires a highly trained and competent workforce capable of investigating and monitoring disease progression and treatment. This is achieved through periods of academic learning that provide knowledge and understanding of scientific principles, legislation and professional practice, and "on-the job" training to develop the ability to apply these: firstly in accordance with standard operating procedures but often advancing to more complex and flexible situations. In many countries this is measured against regulatory standards of proficiency that define discrete areas of practice. In reality these standards interrelate to define a professional scope of practice common to all biomedical laboratory scientists.
Academic teaching uses learning outcomes to express what a student is expected to achieve by the end of the course/module. They are usually expressed in terms of knowledge and skill, thus linking with the assessment strategy and measurement of student's ability. All three inform and guide expectations for both the tutor (inputs) and the student (outputs).
Can the same be said for professional training? Training carried out by experienced staff is often seen as something they just 'do': transferring their own knowledge, experience and skill through a process of explanation, demonstration and observation. Training is judged to be complete when an individual is capable of performing to a consistent standard and therefore deemed competent to practice at a particular level in a technique. As this can depend on personal and organisational standards and preferences learning outcomes in professional training could arguably be used to bring more structure and standardisation to the training process, i.e. learning outcomes for knowledge and skill are measured through the ability to integrate these into effective practice at a recognised standard.
However, the relationship between learning outcomes and competence is complex. A simple narrow view is that it is about performance, the ability to do a task (primarily the cognitive and psychomotor elements of Bloom' taxonomy, rather than the affective element). A much broader view is that it also includes the ability to transfer skills and knowledge to new situations, or the attitude /personal effectiveness required in the planning of work or coping with non-routine activities. In effect we are potentially looking at different levels of performance associated with different grades of staff so this presentation considers the application of learning outcomes in training and how they can benefit the assessment of competence in terms of roles and "fitness to practice".
Back to news listing