Join the vital few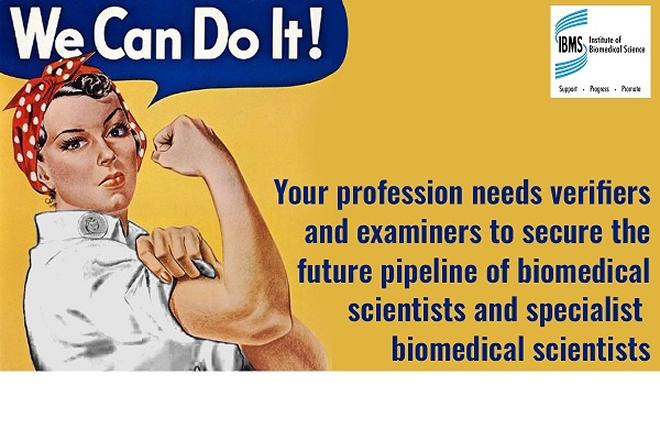 21 July 2021
We need members to come together to help protect the future of the profession

This is a call out to our members to help sustain the pipeline of future biomedical scientists and specialist biomedical scientists by signing up to become a Registration Training Portfolio verifier or a Specialist Portfolio examiner (click for applications).

If you are eligible, please think about taking on an active role in the development and nourishment of your profession. Full guidance, training and support will be given and you will be providing a valuable service to healthcare, as well as benefiting your own professional development.
It refreshes your knowledge
You become aware of different methodologies
It provides new experiences and new ideas
You develop new skills in peer review and assessment
It creates networking opportunities
It can refresh your CV by demonstrating active professional engagement
Once you have submitted your application, click to sign up and join us on September 15th or November 10th for your virtual training session.

The criteria for a successful application are:
IBMS Member or Fellow
Health and Care Professions Council (HCPC) registered
A minimum of three years post registration experience
Currently working in an IBMS-approved training laboratory
Actively participating in CPD for at least the last two years.
For more details visit ibms.org/education/verifiers-and-examiners or email us on registration@ibms.org (verifier) or specialistportoflio@ibms.org (examiner).

It is always our goal to keep our qualifications as affordable and convenient for the profession as possible - helping you to progress in your career with relative ease. However, without more active verifiers and examiners coming forward, our current verification and assessment processes will be unsustainable. Our only option would be to look at alternative measures that may not have the same flexibility that we currently have, and which could mean candidates would have to wait longer and travel further in order to complete their qualifications, making it harder for our profession to flourish.

Most of our assessments are now done remotely, saving travelling time and minimising disruption to our assessor and verifiers' day, and where a visit is required we cover travel expenses and look to minimise the distance to be travelled. The current situation makes more sense - with the profession pooling together and volunteering to keep prices low for those who want to progress.

For now, we would like to put the onus back onto our members and the profession - and hope that we can all continue to support and nourish our learners so that everybody can thrive.

JOIN THE VITAL FEW


Back to news listing