Joint statement on HSST eligibility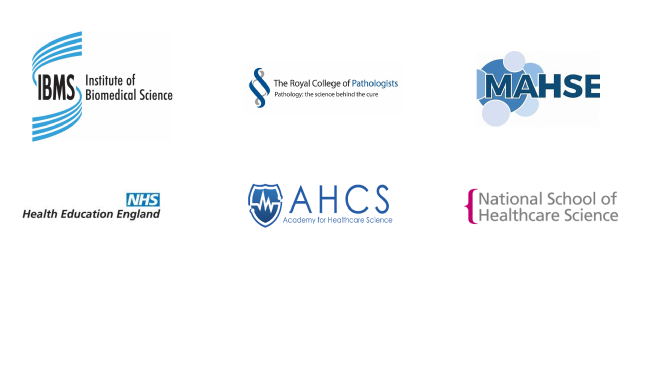 11 September 2020
We are pleased to announce enhanced flexibility of training for senior healthcare scientists
The Institute of Biomedical Science (IBMS), Royal College of Pathologists (RCPath), National School of Healthcare Science in Health Education England (NSHCS in HEE), Academy for Healthcare Science (ACHS) and Manchester Academy of Healthcare Science Education (MAHSE) have come together to broaden the eligibility criteria for the Higher Specialist Scientific Training (HSST) Programme.

The changes will have a direct and positive impact on newly eligible IBMS members who wish to undertake the program.

Professor Berne Ferry, Head of the National School of Healthcare Science, who contributed towards the changes commented:
Opening up the entry criteria for HSST to allow all eligible scientists to enter the programme is a positive step forward in Healthcare Scientist Education and Training. Allowing eligible Biomedical Scientists to apply is hugely welcomed and the NSHCS in HEE is delighted to jointly announce this initiative with the IBMS, RCPath, the ACHS and the MAHSE. Having Biomedical Scientists undertaking HSST alongside Clinical Scientist colleagues can only strengthen, diversify and unify the NHS scientific workforce and help to deliver the necessary scientific leadership which will be crucial for patients in the future.

IBMS Council member Dr Jane Needham, the IBMS lead on this project, commented:
This is really wonderful news. It provides a career pathway and an exciting opportunity for our Biomedical Scientists to apply and develop their clinical and scientific knowledge and expertise through the consultant level HSST training programme, with the key benefit of improving and enhancing the clinical care and services we provide to our patients.

On reviewing the changes, IBMS President Allan Wilson commented:
The inclusion of Biomedical Scientists as an eligible professional group for the HSST programme will provide a route to consultant level posts for Biomedical Scientists and recognises the breadth and depth of experience and clinical skills that exist within the profession. This new training route will improve patient pathways by the addition of experienced clinical experts to the currently stretched consultant capacity. This is tremendous news for Biomedical Scientists and healthcare in the UK.

If you have any questions after reading the statement please contact us via: website@ibms.org

Read the statement and new eligibility criteria in full (or download) below:
Joint Statement on HSST Eligibility
Significant scientific workforce shortages at senior levels have been identified in several Life Science specialties, which have been further highlighted during the COVID-19 pandemic. The Higher Specialist Scientific Training (HSST) Programme trains Healthcare Scientists to consultant level, however HSST is currently not open to all individual scientists with the potential to develop and take on the role of a consultant scientist.
The National School of Healthcare Science in Health Education England, Academy for Healthcare Science, Institute of Biomedical Science (IBMS), Royal College of Pathologists (RCPath) and Manchester Academy of Healthcare Scientist Education are pleased to announce a widening of the of the eligibility criteria for HSST. The new criteria will allow appropriately qualified senior Biomedical Scientists, who can demonstrate ability to work at Level 7 via academic and professional qualifications, to apply to join the programme. Both Biomedical Scientists and Clinical Scientists will be subject to the same HSST interview process to determine suitability and readiness. The qualifications to confer eligibility will include:
1) HCPC Registration as a Biomedical Scientist, IBMS Specialist Diploma and relevant MSc
2) HCPC Registration as a Biomedical Scientist, IBMS Specialist Diploma and IBMS Higher Specialist Diploma or IBMS 2-part Fellowship Special Exam
3) HCPC Registration as a Biomedical Scientist, IBMS Specialist Diploma and IBMS Diploma of Expert Practice
Eligible individuals will also need to meet the requirements of the Universities to commence a doctoral level programme, including a First or 2:1 Bachelor's degree and a Master's degree in a relevant subject area or evidence of having written at that standard, and a minimum of four years working in a professional role. In addition, training departments will need to achieve HSST training accreditation through the NSHCS to be successful in the commissioning rounds. This includes demonstration of suitable workplace and research supervision at doctoral level, access to training to meet the specialism curriculum and HSS Standards of Proficiency, and senior level trust support.
All Life Science HSSTs must obtain Fellowship of the Royal College of Pathologists during the programme in order to complete HSST, in addition to the academic qualification and evidence of their workplace training. These requirements of the programme are identical for Clinical Scientists and Biomedical Scientists on HSST.
This revised admission criteria to HSST is endorsed by NHS Education for Scotland - Healthcare Science. We look forward to working with all agencies concerned with the development of the next generation of consultant-level healthcare scientists.
All scientists who successfully complete the HSST programme or equivalence are eligible to join the Academy for Healthcare Science HSS Register and become a Fellow.
This change to the HSST eligibility criteria will apply from 2021 entry to the HSST programme.


FAQs
Q. I am interested in applying for the HSST. How do I go about doing this?
A. For potential applicants there is information about the programme on the National School of Healthcare Science website.
The vast majority of HSST posts are In Service, so it requires the department to put in an Expression of Interest. If approved by the commissioners, the application process opens in the new year, then interviewers in June/July and start dates in Sept/Oct. For departments and employers who want further information please visit: www.nshcs.hee.nhs.uk/programmes/hsst/employers/
Q. How does this work from a HCPC registration point of view?
A. This change means that entry will not require HCPC registration as a Clinical Scientist and that Biomedical Scientists will be able to complete the programme with their existing HCPC registration.
Q. Will the BMS accepted onto a HSST program be eligible to apply for registration as a Clin Sci?
A. The equivalence pathways for Clinical Scientist registration will be still be available if an individual chooses to do so, however, this will not be a requirement of the HSST programme.
Q. I live in Northern Ireland. Does the announcement today include BMS's here
A. We have the first HSST starting in Northern Ireland this year. The same eligibility criteria would be applied for Biomedical Scientists, however the NSHCS does not commission posts in Northern Ireland so funding would need to be discussed with your regional health education commissioners
Q. Will this open up a histo HSST programme too?
A. We do not currently have a histopathology HSST programme, but would be keen to do so in the future and the same eligibility criteria would be applied.
Q. what would happen to staff who do not hold the IBMS specialist diploma, as this did not exist for older staff? For example, HCPC registration for 15+years with a discipline specific MSc? Would they still be able to apply?
A. staff who registered using the old CPSM/HCPC logbook, which was prior to the introduction of the Specialist Diploma, would be eligible to access the HSST as it represents equivalence.
Back to news listing