Living with leukaemia: Nyah's story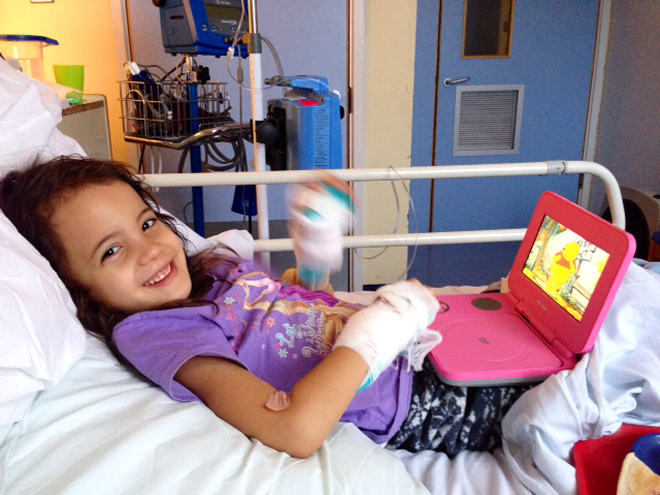 2 November 2018
Laboratory staff welcome the newest member of Harvey's Gang
When ten-year-old Nyah was first diagnosed with acute lymphocytic leukaemia at age 5, it changed everything.
The diagnosis of blood cancer began a new period for Nyah and her family. Time that Nyah should have spent in school or playing was instead spent going between West Hertfordshire Hospitals and Great Ormond Street Hospital (GOSH) for treatment and monitoring.
Cancer at age five
Dealing with cancer is hard at any age, but with young patients it can be particularly hard to bear. Nyah was first diagnosed in 2013 and spent her tenth birthday in hospital due to relapse. Her mother Ina said,
"Once she was diagnosed, treatment started from the first day she was admitted to Watford Hospital. She was then transferred to Great Ormond Street Hospital for two weeks of intensive chemotherapy.
Everyone worked hard to make Nyah better. She was sad that she couldn't go to school but her friends kept in touch and we arranged a home tutor for her so she wouldn't miss any lessons. When she was in the "maintenance" mode of her treatment, Nyah was able to go back to school and her hair started to grow again."
Her leukaemia came back last summer, but Nyah remained positive throughout her treatment. Ina said,
"She told me that we will get through this, and now thanks to the intensive treatment she received, she is back in the maintenance mode of chemotherapy and is feeling much better. We are very grateful to all the staff members at both hospitals who worked hard to make our little girl's treatment a positive experience."
Harvey's Gang
Nyah is the newest member of Harvey's Gang, a children's charity devoted to making the hospital experience better for young patients. It was founded by Chief Biomedical Scientist Malcolm Robinson in honour of Harvey 'Buster' Baldwin, a six-year-old leukaemia patient who asked what happened to his blood sample whilst receiving treatment in hospital in 2013.
Today Harvey's Gang provides lab tours for severely ill patients in over 40 hospitals, giving them an informative look behind the scenes at how their samples are processed.
By providing lab tours and showing the children what happens to their samples, Harvey's Gang aims to show that hospital isn't such a scary place and that when they donate a sample, the scientists are working to make them feel better.
Biomedical Scientist Ben Sheath shared a few words about Nyah's most recent visit to West Hertfordshire Hospitals NHS Trust where she joined Harvey's Gang:
"During the visit, our Senior Medical Laboratory Assistant, Jenny Odle, showed Nyah how to book her own blood sample and what we do to match the blood sample and form. Nyah got to stick her own label on her blood sample and scan her own form on the system for safe keeping.
Yogini Patel, our biomedical scientist in biochemistry, explained how her blood samples would be tested and how the machine analyses the compounds in her blood. Later Nyah got to book her own full blood count (FBC), take it to haematology, load it onto the machine and see her own blood analysed.
Nyah even got to see how the machine counted her white blood cells in around 3 seconds! Biomedical scientist Roshni Popat explained how her sample is mixed and how the machine knows what to do.
She also got to look down the microscope, and her grandfather Dave got to too, at blood cells and see how a special machine is used to colour in all the cells. Nyah then went to blood transfusion, got to see all the blood in the big fridges and saw a bag of platelets up close.
With Nyah's treatment, she has received many bags of platelets and blood, thirty-seven just at our trust alone! At the end of her visit, Nyah was presented with her own goody bag, chocolate treats and her own certificate. Our team were really touched by Nyah's bright smiles and curiosity about her own samples."
We wish Nyah the very best of luck with her treatment. If you want to learn how to bring Harvey's Gang to your hospital, contact us online.
Back to news listing