Major clinical trial for group B Strep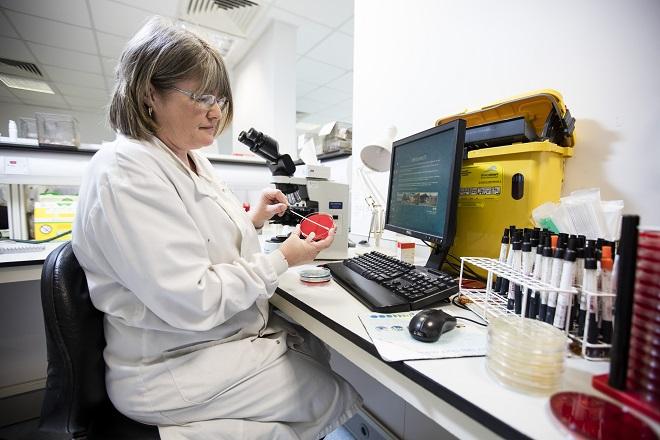 15 May 2019
Trials to prevent life-threatening bacterial infection in newborns to be run in 80 hospitals
A landmark clinical trial is aiming to improve the prevention of potentially life-threatening infections caused by group B Streptococcus (GBS) in newborn babies in the UK. The £2.8 million National Institute of Health Research-funded study will measure the effectiveness of two tests to identify GBS bacteria in late pregnancy or labour compared with the current approach of identifying pregnant women with 'risk factors' for their newborn developing the infection. The trial will involve 80 hospitals in England, Wales and Scotland and the results will inform future pregnancy care policy in the UK.

GBS is the most common cause of life-threatening infections in newborn babies, causing pneumonia, meningitis and sepsis. If left untreated, a GBS infection can kill a newborn baby within hours. On average, two babies each day in the UK develop a GBS infection and each week, one baby dies from a GBS infection and another is left with a life-changing disability. The trial will compare current 'risk-based' prevention with the effectiveness of testing at 35 – 37 weeks of pregnancy or with a 'bedside' test in labour.

Most GBS infections in newborn babies can be prevented by testing during pregnancy and providing intravenous antibiotics during labour to women whose test results are positive. The bacteria are present in approximately one in five pregnant women, usually causing no harm to the carrier, but may be passed unknowingly from a mother to her baby around birth. In the vast majority of cases babies will be unaffected, but one in 1750 newborn babies will develop a GBS infection. One in 19 of these babies will die and one in 14 survivors will be left with long-term disability. It can be especially dangerous to babies born preterm.

Health Minister Nicola Blackwood said: "We want the NHS to be the safest place in the world to have a baby and we will halve the number of stillbirths and neonatal deaths over the next five years through the Long Term Plan. I am delighted the NIHR is funding this large-scale clinical trial to allow us to better understand how we can prevent the leading cause of serious infection in new-born babies."
Unlike the United States, Canada, Germany, France, Spain, Bangladesh, Iran, Lithuania and Trinidad and Tobago, the UK does not routinely test pregnant women for GBS. While tests are readily available privately, a lack of scientific consensus on the benefits means approaches to GBS screening vary considerably between NHS trusts. Some offer a targeted Enriched Culture Medium test – one of the most sensitive microbiology tests available – to all pregnant women, others test only those deemed 'at risk', or take action if Group B Strep is an incidental finding picked up in standard swab tests. Rapid molecular tests are also available, but these are expensive compared to culture methods for some hospital laboratories.
Institute of Biomedical Science Council member Deborah Padgett supports "the need to provide robust evidence in relation to whether there should be a national screening programme to test pregnant women for GBS. Clinical trials provide the assurance needed to make informed decisions and ultimately inform UK policy."

The work is being led by Dr Kate Walker, Clinical Assistant Professor of Obstetrics, and Professor Jane Daniels, Professor of Clinical Trials at the University of Nottingham's School of Medicine, and includes researchers from the Universities of Nottingham, Warwick, Lancaster and City of London, and the charities, National Childbirth Trust (NCT) and Group B Strep Support.
Dr Kate Walker said: "At the moment, we're in a situation where we're missing lots of babies whose mums don't have risk factors but do carry the bacteria and giving antibiotics to women who don't carry the bacteria."
Co-lead Professor Jane Daniels, from the Nottingham Clinical Trials Unit, said: "We want to answer the question for the NHS — should you test pregnant women for group B Strep or not, and if you're going to test, is it better to do a culture test at 35 to 37 weeks pregnancy or a bedside test? Hopefully the trial will answer these questions. We believe that, if testing is proved effective, this would mean that the right women get the right antibiotics."

The charity, Group B Strep Support, has been campaigning for better prevention of this infection for over 20 years. Founder and Chief Executive, Jane Plumb MBE, said: "The current UK policy on group B Strep is not working. The number of babies suffering group B Strep infections has risen not fallen despite the introduction of the risk-based prevention strategy in 2003.

"After routine testing was introduced in the United States, the rate dropped by over 80 per cent and their rate of early-onset GBS infections (those in the first six days of life) is now less than half that of the UK. If the rate was reduced in the UK in the same way, we could prevent group B Strep infections in approximately 350 babies every year, saving 15 babies' lives and protecting another 15 from life-changing disability. The results of this important trial will drive improvements in UK policy and lead to fewer babies and their families suffering the trauma that group B Strep infection can bring,"
The NIHR Nottingham GBS-3 Trial is the first worldwide to compare two types of testing versus a risk-factor approach and as such could lead to improvements in pregnancy care internationally.
Back to news listing