Meet our new head of education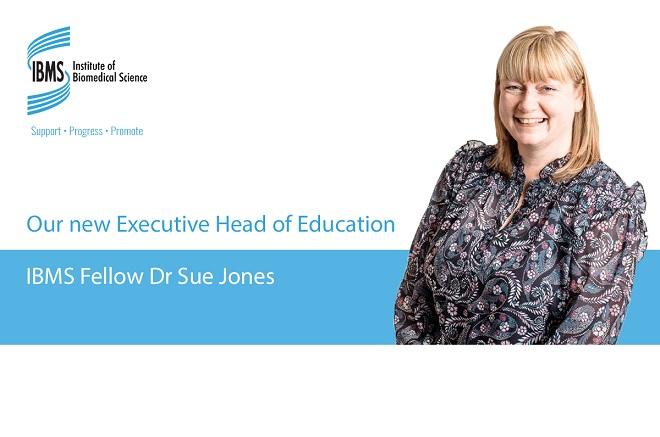 16 May 2022
We're delighted to announce IBMS Fellow Dr Sue Jones as our new Executive Head of Education
Sue will begin her new role at the IBMS on 1st June 2022. She is currently Associate Head of School for Biosciences at York St John (YSJ) University and has over 15 years' experience of academic programme development and design.
Sue developed YSJ's IBMS accredited Biomedical Science programme from scratch and continues to expand opportunities in Biomedical Science for her students. After only six years, YSJ's Biomedical Science programme ranked 16/105 in the Guardian Best UK Universities 2021 league table, based on consecutive NSS results.
In March 2021, Sue was awarded Principal Fellowship by Advance-HE (PFHEA), recognising the highest levels of excellence in strategic leadership of learning and teaching in higher education.
For the last 6 months, Sue has been seconded to the role of Head of Teaching and Learning Enhancement at York St John University, where she has been working with colleagues across the institution and from all subject areas to enhance the student experience and learning and teaching practices.
Following her appointment, Sue said:
"I am thrilled to have been appointed as the Executive Head of Education at the IBMS. Having worked closely with colleagues at the IBMS, in practice and in academia for over fifteen years, I am excited to be taking on this pivotal role.

I am very much looking forward to supporting our fantastic educators and trainers to continue to develop students into future Biomedical Scientists and to enhance the training offer for colleagues in practice."
The IBMS Executive Head of Education leads in the development and implementation of our assessments and qualifications and works alongside Executive Heads of 'Membership & Marketing', 'Finance' and 'Operations' in order to help deliver the IBMS corporate strategy.
Congratulations Sue, we look forward to working with you from June onwards!
Back to news listing