Members awarded at IBMS AGM 2019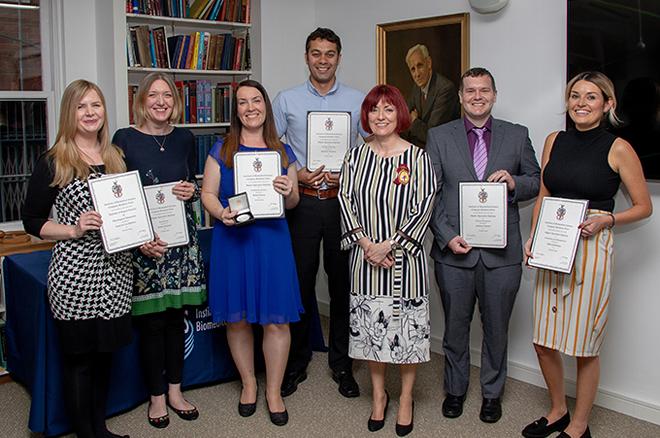 7 June 2019
Congratulating prize winners and welcoming new council members
This month marked the IBMS's 77th Annual General Meeting (AGM). The meeting, held at our headquarters in London, included award presentations and a guest lecture by IBMS Fellow Daisy Shale, entitled 'A day in the life of death'.
Company Members' prizes
The company members' prizes are awarded to the candidates who achieved the highest marks in their HSD exam in 2018.
The winners are:
Cellular Pathology
Matthew Wickens - Queen Elizabeth Hospital, London
Clinical Chemistry
Andrew Connor - Diana Princess of Wales Hospital, Grimsby
Immunology
Emma Sarhani - Queen Elizabeth Hospital, Gateshead
Leadership and management
Katie Kitchman - Hull Royal Infirmary, Hull
Transfusion Science
Helen Owens - NHS Blood And Transplant, Newcastle Upon Tyne
RJ Lavington Prize
The R J Lavington Prize of £500, medal and certificate is awarded to the IBMS member who achieves the highest mark across all disciplines in the IBMS Higher Specialist Diploma examinations in that year.
For 2018, the RJ Lavington Prize was awarded to Helen Owensfor her examination result in Transfusion Science.
Company Members Prize – Diploma of Expert Practice (DEP)
The IBMS Diploma of Expert Practice Prize is awarded to the IBMS member who achieves the highest mark in the Diploma of Expert Practice examination.
This was awarded to Sarah De-Vaux Balbirnie to for her marks in the DEP in Histological Dissection.
Life membership
IBMS Life Membership is one of the most prestigious awards the Institute bestows on its members.
In honour of his great service to the Institute, IBMS Life Membership was awarded to IBMS Fellow Brian Nation.
About Brian
In 1997 Brian became editor of The British Journal of Biomedical Science, where his exemplary editorial skills and attention to detail were used to shape the modern 'Journal'. He became editor of The Biomedical Scientist in 2001 and developed it to be the most highly rated benefit of Institute membership.
Brian edited and co-authored the history of the Institute published as a book, Letters of Consequence, in 2012. Five years later, Brian moved to become a member of the Institute's staff in the role of Content Editor. He retired in March 2018, but has continued in the honorary role of Editorial Specialist Advisor. Brian has also been a member of the Institute's History Committee since 2014 and was appointed Honorary Secretary in 2018.
Council election results
We were delighted to see the results of this year's IBMS Council elections and welcome our new council members.
National members
Dr Jo Horne
Professor Keith Hyde
Regional members:
Irish Mrs Shauna McAuley
Scotland Dr Linda Walsh
South West Mr Andrew Usher re-elected
Yorkshire Mrs Joanna Andrew re-elected
West Midlands Mr Nigel Coles re-elected
We offer warm congratulations to all of the newly elected council members and prize recipients at this year's AGM.
Back to news listing