Get ready for National Pathology Week 2019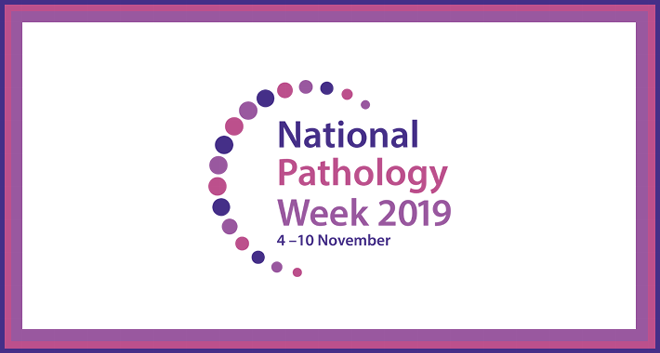 3 October 2019
Start planning your events and activities to promote biomedical science
November 4-10 is National Pathology Week (NPW), the Royal College of Pathologists' annual week-long celebration of activities and events promoting disciplines and professions in pathology.
We are delighted to support this event, as it provides an excellent opportunity for our members to showcase their roles and specialties in the profession.
This year's theme is: exploring innovations big and small. The Royal College of Pathologists has stated:
"New advances in pathology such as digital pathology and genomics can be exciting themes to highlight with your NPW events and activities. We'd love to see public events about current research and future applications from all 17 pathology specialties.
We're also encouraging wider interpretations around the 'theme' of innovation that highlight more everyday breakthroughs and small 'acts of genius' in pathology – these might include new ways of working, or smart initiatives in pathology teams that have helped make a difference to the health of patients, and/or which contribute positively to the work of other healthcare professionals."
Invite your fellow staff to visit the lab
In healthcare, teamwork is essential. That's why we're encouraging laboratories to open their doors to fellow staff members and welcome them to tour the labs.
Take the time and invite your fellow staff members to visit and learn about your role in patients' healthcare journeys. One tool we offer is a poster we developed with Sobana Qadus, a Biomedical Scientist at Manchester Foundation Trust.
We recommend you use the poster in staff rooms to encourage other types of hospital staff to visit your laboratory and learn how biomedical science is at the heart of healthcare. For more about this initiative, read Sobana's guest piece on effective communication in healthcare.
NPW 2018: A great informative experience
Last year our members held activities across the UK with great results. At Leeds Teaching Hospital NHS Trust, Rehana Ayub and her colleagues from the immunology department hosted an open day for visitors.
Rehana said, "The day involved many disciplines presenting their department's work to local students as well as tours of the labs. The students got first-hand experience with what it's like to do an integrated year and how labs can support them needing to do top-up modules to work towards accreditation. This was a great informative experience for the students to learn the steps they can take to become a biomedical scientist!"
Order your promotional items
If you need help organising your national pathology week event, contact us at pe@ibms.org. IBMS resources are free for members (login required), we have downloadable posters and leaflets for non-members.
If you wish to request free promotional items for your National Pathology Week events, complete our online promotional items request form by Friday 25 October. Tag us in to your NPW social media posts at @IBMScience (Twitter and Instagram), using the hashtag #AtTheHeartofHealthcare.
Have a great time at National Pathology Week!
Back to news listing