National POCT Guidance 2023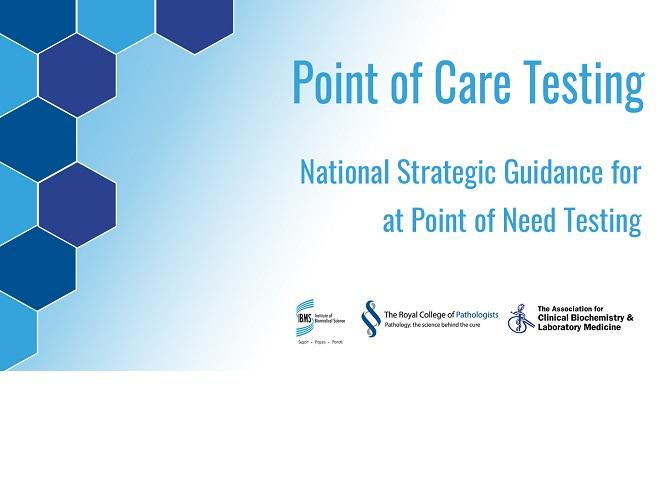 25 May 2023
The IBMS, RCPath and ACB have collaborated to produce new national guidance on Point of Care Testing

The IBMS has collaborated with the Royal College of Pathologists (RCPath) and the Association for Clinical Biochemistry and Laboratory Medicine (ACB) to produce Point of Care Testing: National Strategic Guidance for at Point of Need Testing.
The paper aims to communicate with those responsible for planning and commissioning novel patient services outside of traditional care settings. It outlines the strategic requirements necessary to adopt POCT where it is needed and how to deliver safe and high quality POCT within an accreditable framework.
Increasingly, we are seeing diagnostics being flagged as the enabler of innovative, effective, patient-centred care closer to the patient's home, at the point of need. By setting out the questions that need to be considered, and who the experts are that understand the clinical need, we are placing a marker down and stating that diagnostic testing is the expert domain of our members, whatever the setting.
We are also offering those responsible for commissioning and developing diagnostic services in new care settings the information, and the access to laboratory experts, they need to ensure safe and clinically effective POCT.
The paper outlines:
laboratory experts should be used as a source of trusted advice to support the design, assessment, implementation, and delivery of diagnostic services outside of the traditional laboratory setting.


engagement across healthcare organisations is critical to understand the flow of diagnostic information, from wherever it is undertaken, to the patient record, with visibility for all clinical staff who have reason to access this information.


full and properly costed financial resources need to be identified to support high quality, fit for purpose and safe POCT services.


new technology brings new opportunities for the better use of the existing workforce, creating a more agile workforce.
The IBMS encourages the sharing of this document with service leaders embarking on testing outside of the traditional laboratory setting – to inform and advise the development of innovative, safe and effective patient pathways.

The paper will be shared widely across government channels and press released to all relevant organisations.

Download the full document here>>>
Back to news listing