New IBMS branch holds first AGM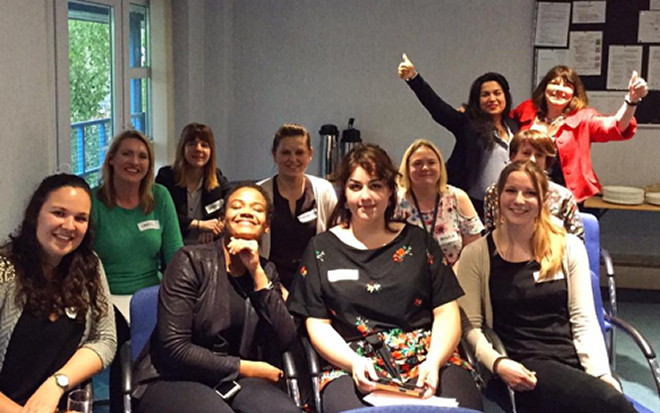 12 June 2017
The IBMS Sussex Branch held its first AGM
IBMS members in the local Sussex area have decided to revive their branch after years of being dormant.
Organisation
The members formed a small committee of four IBMS members, coming from different biomedical science backgrounds.
Publicity officer Imogen Collard said, "We decided to take on the challenge of restoring the Sussex branch and give the members of the Sussex region a voice."
The AGM
Held at Nuffield Health Haywards Heath, the AGM took place 17 May and featured a Q&A with Branch Chair Joyce Overfield, author of the book Introduction to Transfusion Science. Joyce spoke about her journey of writing the book on transfusion science, which provides an ideal introduction to the discipline of transfusion.
This popular event was sponsored by Alere who donated pens and drinks, and catering was funded by the Nuffield Health Pathology department.
Immy added, "We are completely thrilled at the progress and support that the branch has received so far, no only from the IBMS but also the members. We were overwhelmed with the support and contribution shown by the members, some of whom travelled as far as Chichester.
We were thrilled to see so many positive personalities including the new generation of first year biomedical scientists from Brighton University."
Your new IBMS Sussex Branch officers
Branch Chair Joyce Overfield is an active member of the IBMS. She is passionate about providing opportunities to scientists and is very excited to have been elected as a National Council Member for the Institute.
Branch Secretary Simonne Weeks met Joyce earlier in the year, matching an enthusiasm for starting up the Sussex branch for the IBMS. As branch secretary, Simonne will create agendas and record minutes for the meetings. Professionally she is a lecturer in biosciences at the University of Brighton, and works as a Senior Biomedical Scientist at the Nuffield Health Hospital. She is also working on a PhD proposal on the subject of organ and transplant donation.
Branch Treasurer Sarah Ward completed her BSc in Biomedical Science at the University of Hertfordshire and her placement year at Addenbrooks, where she discovered her passion for histological study. She works at Nuffield Health as a biomedical scientist and is currently undertaking her specialist portfolio in histology. She is also completing her MSc in Biomedical Science.
Branch Publicity Officer Imogen Collard is responsible for the branch's social media channels and will inform branch members of the latest updates. Imogen completed her BSc in Biosciences at Canterbury University and is about to begin a Master's programme. She currently works at Nuffield Health Hospital as an MLA and is looking forward to beginning her specialist portfolio in histology.
Get connected
The IBMS is delighted for the Sussex branch and looks forward to working with them in the future.
If you wish to get involved with future events with the IBMS Sussex branch, contact them via email. You can also find them on Facebook, Twitter and Instagram.
Back to news listing