IBMS' Alan Wainwright new President of IFBLS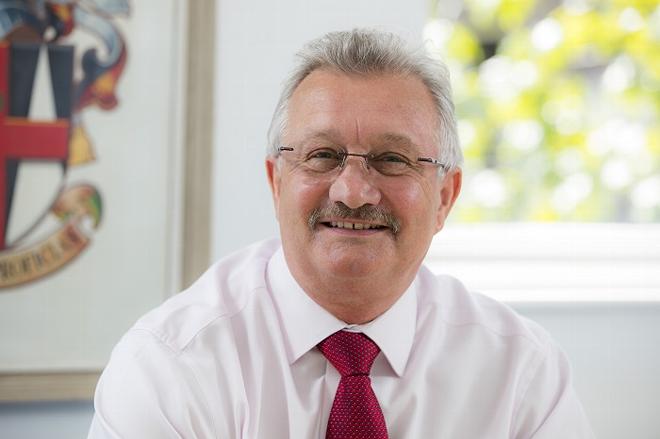 29 September 2020
IBMS Executive Head of Education Alan Wainwright has officially been elected as the President of the International Federation of Biomedical Laboratory Science
Our congratulations go out to IBMS Executive Head of Education Alan Wainwright who has now officially been elected as the President of the International Federation of Biomedical Laboratory Science (IFBLS). This is the perfect recognition for all the work Alan has put towards the profession over the years and the IBMS is proud to support his international engagement.

We caught up with Alan over the weekend to ask him about his plans for the IFBLS, their work with the World Health Organisation (WHO) and how COVID-19 has changed the organisation.
What do you hope to achieve as President of the IFBLS?
IFBLS has a global responsibility to support, advance and promote good scientific laboratory practice and education, underpinned by ethical and professional values. We can best achieve this collaboration between our organisations by working together to share ideas and promote our professional identify. I want to achieve greater engagement with all members because this is crucial to achieving our shared ambitions. My priority is to use the expertise we have to create stronger scientific advisory networks that can influence development in areas that lack education and training resources. We can do this by offering guidance and access to information through greater use of education tools such as webinars and e-learning platforms. This can be achieved through the Britta Karlsson Advancement Programme, a legacy donated by a former IFBLS member, aimed at enabling IFBLS member associations, primarily from Low and Middle-Income Economy Countries, to promote the education and professional advancement of Biomedical Laboratory Scientists.
How has COVID-19 changed the objectives of the IFBLS?
It is important that IFBLS maintains its focus on tasks outlined in our By-Laws and required by our members. Our strategic plan outlines our main goals and tasks: some goals are long-term, with tasks that are ongoing and open-ended, while others have a measurable outcome. Our members need to see we are making progress on a global scale and can offer advice and guidance in order to empower them to act on topics they are concerned about at a national level.

Covid-19 has obviously had a huge impact on the work of Biomedical Laboratory Scientists (IFBLS's preferred title) across the world and, as public awareness of laboratory diagnostics has grown, many of our member associations have gained increased recognition of the value their members' work brings in testing and diagnosing this disease. Strategically, IFBLS is using the opportunity to keep increasing the awareness, and recognition, of Biomedical Laboratory Scientists in public, and also towards other health professionals. The theme for the International Biomedical Laboratory Science Day (BLS Day) 2021- 2022 is: Testing Times – Biomedical Laboratory Scientists role in the Covid-19 pandemic. Our objective is to promote and celebrate the key role of Biomedical Laboratory Scientists in diagnostic and preventive health care systems. Next year, 15 April 2021 will mark the 25th Anniversary of BLS Day and should be a great day to celebrate our profession on a global scale.

The other significant impact of Covid-19 has been the postponement of the 34th World Congress, which was due to be held in Copenhagen in September 2020. This will now be held 24-28th August 2021 and have an additional focus on Covid-19 included in the other four scientific and education themes. This postponement also meant our meeting of the Chief Delegates and General Assembly of Delegates were held virtually. These continue to be the global meeting point for Biomedical Laboratory Scientists where scientific work is shared, networking done and inspiration for the future generated.
What does the IFBLS' work with WHO involve?
IFBLS has the status of Non-State Actor (NSA) and its official relations with WHO was renewed in 2019. To maintain this status we have a workplan that includes provision of: an article in HR Journal about medical laboratory staffing; input for revision of WHO Guidelines related to laboratory medicine; support for WHO Call for experts; input to WHO documents; and side events at the World Health Assembly.

Attendance at WHO meetings is key. In 2019 and 2020 members of the IFBLS management committee attended the WHO Executive Board meeting (membership 34 countries), and submitted statements on human resources, non-communicable disease, accelerating the elimination of cervical cancer as a global public health problem. These were accepted and presented at the meeting.

We are very fortunate to have a Designated Technical Officer Adriana Velazquez Berumen, who with her colleagues took time out of their very busy schedule to have a separate meeting with IFBLS. Adriana emphasized the importance of IFBLS's contributions in the upcoming Open Meeting on the revision of the Essential List of Diagnostics (EDL) on 23 March. WHO contributions to the World Congress in Copenhagen was discussed as well as current status of ISCO revision.

I was able to attend Adriana's meeting for Non-State Actors on 6 February. Some of the topics of this meeting were: Launching Patient Safety campaign 2020-2030 - one decade for improving patient safety; Cervical cancer – technical specifications for guidance and procurement; World Health Assembly 2020 which was held as a virtual meeting with a reduced agenda on 18 - 19 May due to the Covid-19 pandemic.

WHO has established a Strategic Advisory Group of Experts on In Vitro Diagnostics (SAGE IVD), acting as advisory body to matters of global policies and strategies related to in vitro diagnostics (IVDs). Due to the pandemic the Open Meeting in the SAGE IVD on 23 March was conducted as a virtual meeting and IFBLS was given the opportunity to review the documents.
How does the IFBLS hope to contribute to the prevention and control of non-communicable diseases in the context of the 2030 Agenda for Sustainable Development?
The topic for BLS Day 2019 and 2020 has been "Non-Communicable Diseases - The role of Biomedical Laboratory Scientists in Detection, Screening and Treatment".

IFBLS presented a statement on this at WHO Executive Board meeting in 2019 that acknowledged and supported the effort made by the WHO and the Global Coordination Mechanism on the Prevention and Control of Noncommunicable Diseases (GCM/NCD), for the prevention and control of non-communicable diseases in the context of the 2030 Agenda for Sustainable Development. This statement highlighted: a) that medical laboratory testing is vital for prevention, screening, detection, treatment and follow up of major groups of Non-communicable diseases; and b) proper use of and access to laboratory testing is an essential factor in management of NCDs such as cardiovascular diseases, cancer, chronic respiratory diseases and diabetes. IFBLS will continue to contribute to the WHO agenda for this.
Why is it important that there is continued development and funding for global BLS educational programs and what form would you like these to take?
Recognising the specific contribution that biomedical laboratory scientist bring to healthcare provision and global developments in knowledge, scientific technology and research is essential if there is to be continued development and funding for education programmes.

International organisations such as IFBLS define core competences and skills for the global profession but are reliant on individual countries to adopt them, and use them to inform minimum standards for education and implement statutory regulation. Many low and middle income countries do not have infrastructure to train the biomedical laboratory workforce to degree level, nor do they have regulatory standards that ensure standards are applied that protect patients from investigative procedures that could be performed without the necessary knowledge and skills to produce accurate results.

IFBLS is reliant on its Member Associations such as IBMS to continue to promote professional standards of practice at a national level, and contribute to the global pool of knowledge at an international level. Whilst developments in IT should make the sharing of knowledge more accessible, the challenge is still to raise the profile of the biomedical science profession and gain recognition of the value this can bring to healthcare. For example, local investment in infrastructures that provides better healthcare treatment will have limited success unless there is also investment in education and training to develop qualified staff. Only then can the delivery of diagnostic testing , the monitoring of treatments, transitional research that informs new treatment regimens, and the training of clinical staff that use them impact optimally on the health of individual patients, and holistically on the health of the nation.

It is worth noting that WHO has a Global Strategy on Human Resources for Health: Workforce 2030. Much the progress has already been achieved with nursing and midwifery and IFBLS wants to see the importance of recognising this for all regulated professionals. In this context a statement from IFBLS on human resources was accepted for the WHO Executive Board in 2019. This statement highlighted the need to document and recognise healthcare professionals such as biomedical laboratory scientists (also with medical engineers, radiographers, medical physics) correctly with other regulated health professionals that have a similar level of qualification that underpins professional specific expertise. The platform for this is the review of the ISCO.08 standards in time for the 2030 census and IFBLS will continue working to redefine the position of Biomedical Laboratory Scientists in these standards.
Back to news listing