NI laboratories commended at awards ceremony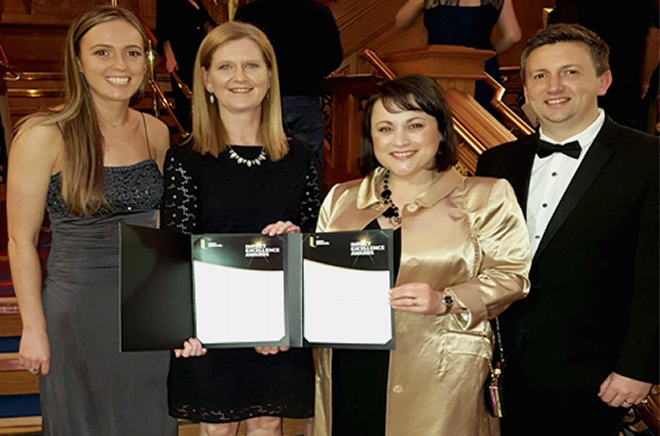 10 July 2018
Ulster University's Impact Excellence Awards praised Northern Ireland laboratories
Held on 3 May, Ulster University hosted their second annual Impact Excellence Awards ceremony, recognising organisations for their commitment to pioneering research and graduate employability.
From over 200 applications, laboratories from Northern Health & Social Care Trust (NHSCT) and the South Eastern Health & Social Care Trust (SEHSCT) were shortlisted for awards.
At the ceremony in Titanic Belfast, Northern Trust laboratories were the first regional laboratory to be highly commended in the 'Placement Employer nominated by UU student' category. The South Eastern Trust laboratories were highly commended for the second year running in the 'Placement Employer in the Public Sector' category.
Hospital Laboratories across Northern Ireland facilitate a 52-week placement programme each year for up to twenty-five Ulster University students undertaking the degree programme in biomedical sciences. During the placement, students complete their HCPC professional registration training portfolio, and following successful completion of their degree programme are then eligible to apply for biomedical scientist posts.
Dr Declan McKenna from Ulster University said, "On behalf of the School of Biomedical Sciences I congratulate both the South Eastern and Northern Trust Laboratories on their success at the 2018 Ulster University Impact Excellence Awards. This is highly-deserved recognition for the outstanding placement opportunities they provide for our Biomedical Science students. This work experience is invaluable in enhancing their knowledge, skills development and future employability prospects".
Pictured receiving certificates are left to right: Miss Lois Wilson, biomedical science placement student, IBMS member Dr Valerie Hinch, Training Officer & Section Head from Cellular & Molecular Pathology Department in the Northern Trust; Mrs Irene Griffin, Training Officer from Haematology and IBMS member Dr Ryan Graydon, Training Officer & Section Head from Microbiology in the South Eastern Trust.
We wish all the laboratory staff members at the South Eastern & Northern Health and Social Care Trusts congratulations on these achievements.
Back to news listing