National Pathology Week 2019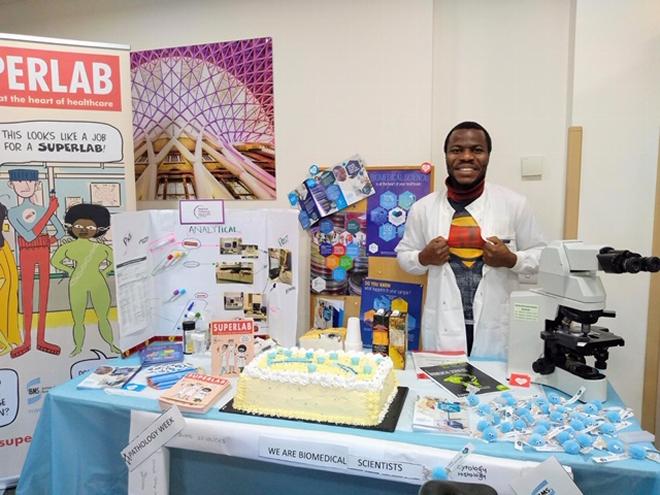 13 November 2019
Our members share their stories for the tenth annual National Pathology Week
Held from 4-10 November, National Pathology Week (NPW) celebrates the field of pathology and highlights the essential contributions of pathologists to healthcare.
Our members shared the fun events and activities they got up for this week.
Pathology Training Manager Chris Chase said: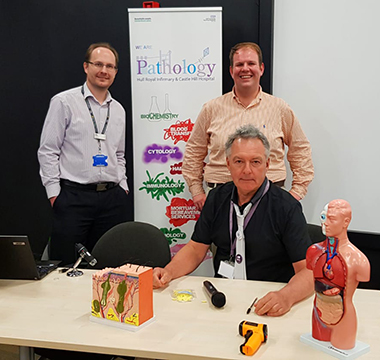 "At Hull Pathology we had a week-long celebration of National Pathology Week. The highlight was undoubtedly Prof Mat Hardman from Hull University talking to 200 local schools' students all about skin and wound healing.
Prof Hardman and his team are world-renown in research into wound healing. Together with Sean Frost from the biomedical science department, they delivered a 90-minute interactive session which was incredibly well-received by the audience."
Chris tweeted:
Welcome to National Pathology Week 2019 from Hull @RCPath @IBMScience @HullHospitals pic.twitter.com/zN0gP4UVEf

— Dr Chris Chase (@Chrischase101) November 4, 2019
Akintayo Osaloni and his colleagues organised a stand at Parkside Private Hospital with activities for visitors to learn about pathology.
Akintayo said, "I organised this event to promote pathology services' role to the public. I set up banners and signs, as well as samples, a microscope and a cake to be made.
Some members of our team dressed up as superheroes and we took the time to show the public and hospital staff what happens to their samples when they are sent to pathology and what a blood film would look like under the microscope. It was a fun event."
Parkside Private Hospital tweeted:
HAPPY NATIONAL PATHOLOGY WEEK
In celebration of National Pathology week, our Superheroes came out from behind the scenes to show our staff what Pathology is all about and the important work they do.#superheroeswearwhitecoats #pathology #nationalpathologyweek pic.twitter.com/m6I87698wv

— Parkside Private Hospital (@ParksideHosp) November 7, 2019
Charlotte Ewing said,
"At Newcastle upon Tyne Hospitals NHS Foundation Trust we hosted a stand at both the RVI and the Freeman Hospitals to promote National Pathology week. It was great fun interacting with patients, visitors and staff explaining what we do in the laboratories and how we help patient diagnosis.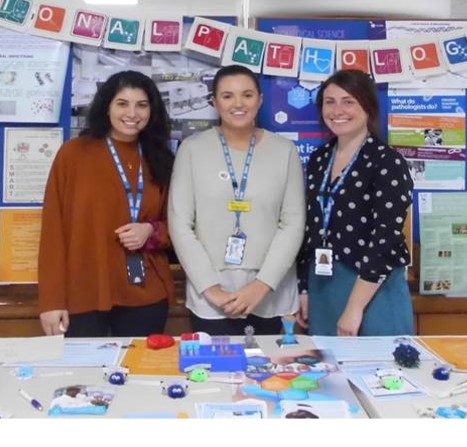 The stands were manned by a mix of trainee BMS, Healthcare Science Assistants/Associates, BMS and Medical staff, giving out both IBMS and RCPath goodies. Everyone loves a good pen and the little biomedical science bugs are popular with both staff and patients alike. We also had staff tours which were very well received and got great feedback: "It has really opened my eyes about the work that goes on in the labs" a nurse specialist commented."
Tracey Warnett from the University of Bradford added, "As we have a large cohort of Biomedical Sciences students at the University of Bradford, the biology teaching labs have been promoting National Pathology Week in conjunction with the Institute of Biomedical Science.
Some of our visitors were already placed in hospital laboratories and were interested in the IBMS as a professional body. A large number of first year students visited the floor and will be yet to decide which discipline of biomedical science to follow, so hopefully the materials available will help to guide them.
As a member of the IBMS and a practicing BMS for 29 years before I moved into academia, I am passionate about creating talented BMS's of the future. I want them to have all the right knowledge, skills and qualities to provide an excellent service to health care providers and ultimately the patient."
Kathleen Holden added:
To promote Pathology at the Countess of Chester Hospital NHS Foundation Trust we participated in an Educational event at King`s School, Chester. This year The King's School hosted one of the RCoP's most interesting and popular events – The Living Autopsy. It is a live audience-based event with one main pathologist presenter, Dr Natalie Meara, and a model playing a 'dead body'.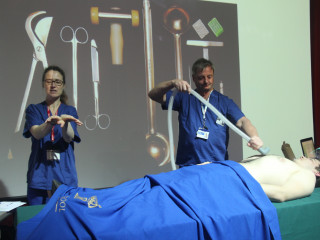 The event highlighted the process of a post mortem examination, and involves showing the real instruments used during the procedure, as well as images that aid explanation.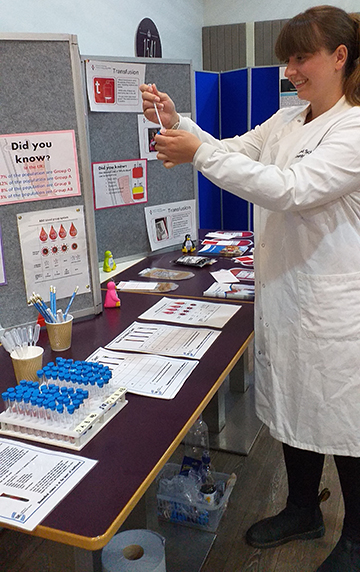 The talk also explained the role of pathologists in hospitals, and what circumstances would lead to a post mortem being required for someone who has died. This core content has been enhanced with additional themes, stories and visuals to bring in historical or other factors that are relevant to post mortems, disease and careers in Pathology.
The event also included biomedical sciences staff talking about careers in pathology prior to the talk and they held a variety of exhibits after the talk to highlight the role of biomedical scientists and pathology in the role of the patient care pathway.
This sold out event proved extremely popular and was a great opportunity for King's students, many students from local schools, and members of the public to celebrate National Pathology Week."
The week also gained attention on Twitter:
Happy National Pathology week from @qehbham .... we have a stand in the atrium for anybody interested in careers or just to find out about what happens to there samples COME ALONG ??#NationalPathologyWeek @IBMScience #IBMS pic.twitter.com/MzDyLazzqA

— Hannah McKenna (@HannnahMckenna) November 6, 2019
@IBMScience @RCPath @SheffieldHosp @ilovepathology#NationalPathologyWeek #PathologyWeek Histopathology and haematology stands today. It's been a great week showcasing what pathology is all about and the people behind the scenes! Great team effort across disciplines! pic.twitter.com/zeTnDZMeXb

— Samuel Nti (@SamKNti) November 7, 2019
#NationalPathologyWeek @thelondonclinic @IBMScience @RCPath #pathology #team stands this week ???? ????‍??????‍??????‍??????‍??????‍??????‍??????‍??????‍?? ?????? pic.twitter.com/R8wIr2D3K8

— Reza Mirza (@rezamirza74) November 8, 2019
We are delighted to learn of so many of our members holding events and activities for National Pathology Week. For updates of the week's events across the UK, follow the Twitter hashtag #NationalPathologyWeek.
Back to news listing