CSO WISE ones to watch - pt 1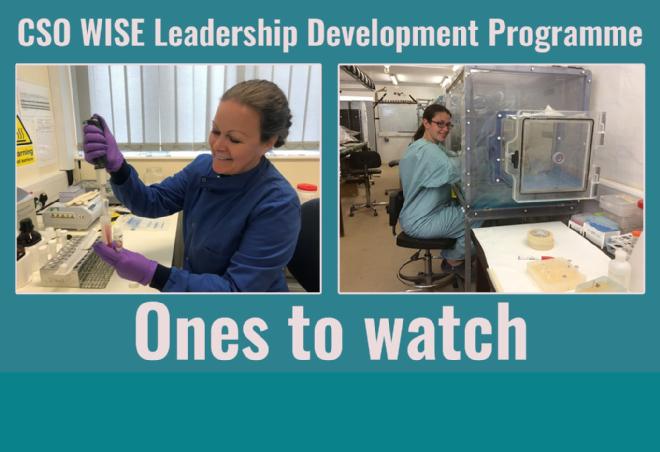 10 January 2020
Six of our talented members have been chosen for the CSO WISE Healthcare Science Leadership Development Programme
We were proud to hear that six of our members have been chosen for the CSO WISE Healthcare Science Leadership Development Programme. We caught up with them to find out about their work, why they applied for the programme and what they hope to achieve. Here are the first two profiles of our CSO WISE ones to watch:

Victoria Heath


Background:
I have been a scientist in the NHS my entire adult life. While I was still at school, I phoned a histopathology laboratory and asked if I could do my work experience there. They said yes and they must have liked me because they offered me a job as soon as I finished school! The four year biomedical scientist training programme gave me the opportunity to work in all areas of pathology while studying for my BSc and completing my IBMS training portfolio. Since then I have worked in Trusts across the UK and never quite settled on one specialism. I bounced several times between Immunology and Microbiology, including a deployment to Sierra Leone during the Ebola outbreak in 2015.

Beyond benchwork, my passion is education and I was fortunate enough to be able to spend a year in a purely education role helping to develop the healthcare science workforce. This experience allowed me to start working with the National School of Healthcare Science as an apprenticeship assessor, a role which I keep up today. Currently I am working at Great Ormond Street Hospital as Quality Lead for the nine physiological science services and supporting them through UKAS accreditation. It's a new and exciting challenge, but I am always keen to keep up my pathology connections.

CSO WISE:
My career has given me the opportunity to work with a wide range of people and for multiple managers and leaders. I have seen a variety of behaviours and management styles, some that I am keen to emulate, and others I am keen to avoid. I firmly believe that all managers and leaders should have formal development opportunities to help support them.

I am also passionate about breaking down the boundaries between specialisms and uniting healthcare scientists, as well as providing learning opportunities that will lead to a motivated and well developed workforce. I strongly felt that the CSO WISE HCS Leadership Development programme would allow me to connect with like-minded scientists to exchange ideas and potentially develop new ways to engage with the public and future scientists.

Going forward:
My project as part of the CSO WISE Programme is to facilitate 12 monthly evening sessions in London. Each session is open to the public, patients and other scientists, is free to attend (with drinks and snacks provided!) and features short talks from healthcare scientists on a particular theme such as air pollution in London or cardiovascular health. The aim is to create collaboration between healthcare scientists of all disciplines and to raise the profile of healthcare science in the general community. It allows healthcare scientists at all stages of their career to share their work and learn from other specialties in a supportive environment.

Click here to register for the first Community Science Lecture on lung function
[Manually extracting DNA destined for Whole Genome Sequencing (WGS) from the blood of a participant in the UK's 100,000 Genomes Project who had ovarian cancer. This project created the national infrastructure needed to deliver WGS at scale in routine clinical practice in the NHS]

Background:
I have been a Healthcare Scientist for over 28 years, having practised as a Biomedical Scientist in Transfusion, Haematology and Immunology laboratories both in England and Wales. More recently I have been working in partnership with the North West Genomic Laboratory Hub to facilitate the uptake of genomic testing for patients with rare diseases and cancers in the Lancashire & South Cumbria region. WGS will radically improve the clinical management and personalise the healthcare of eligible patients born in 'Generation Genome'.
CSO WISE:
The prestigious CSO WISE Leadership Development programme is an incredible platform for me to showcase my role as a Specialist Biomedical Scientist practising in a clinical environment, inspiring others whilst raising my professional profile, and helping me to achieve my personal and professional aspirations. I feel honoured to be selected for this award and to be recognised by NHS England as a Healthcare Scientist role model.

Going forward:
I am passionate about education that enables people to engage with WGS. Through my 'Socialising-the-Genome' partnership with Preston North End Community and Education Trust, and the support of the CSO WISE office, I will reach every child in the City of Preston with Genomics Education so they are empowered to start genomic conversations. My ultimate ambition is that this educational model will be delivered to every child in every school in England.





Back to news listing