Plymouth biomedical scientist aims for the Longitude Prize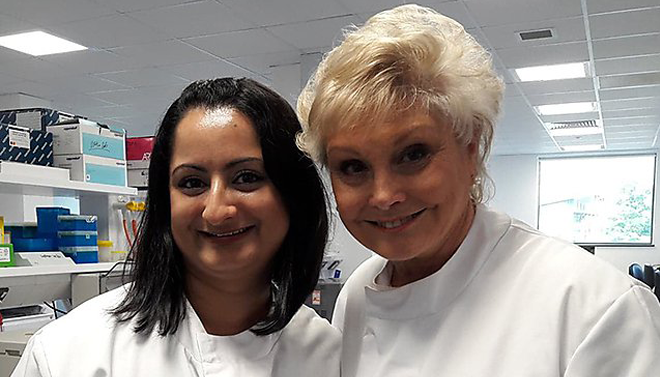 30 January 2019
University lecturer Tina Joshi MIBMS and her team are representing the UK for a global challenge
IBMS member Tina Joshi and her team aim to tackle the public health challenge of antimicrobial resistance with their entry for the prestigious Longitude Prize. Tina's three-person team of researchers is just one of 78 teams around the world competing for the prestigious prize.
Announced in 2014, the longitude prize issued a call to arms and challenged researchers to help develop tests for bacterial infections which are new, affordable, accurate, fast and simple. With an estimated 10 million people expected to die per year due to being infected with antimicrobial-resistant bacteria, stemming in part from misuse of antibiotics, this is seen as a major public health concern and has been called the challenge of our time.
We sat down and spoke with team leader Tina Joshi, a lecturer in molecular microbiology at the University of Plymouth. Tina explained,
"What we're aiming to do is make a handheld point of care testing device that would help prescribe antibiotics correctly. It's both a diagnostic and treatment tool in one. It will use two technologies that are being miniaturised right now, and the idea is to create a device about the size of a mobile phone that would allow anyone with or without a medical background to use it and analyse a patient's sample. We want this to be available for use all over the world, especially in low and middle-income countries where it's needed."
Whilst Tina and her team are researching the science behind the project, commercial collaborators are miniaturising the technology.
In practice, the patient provides a sample to the medical staff who put it on a cartridge and into the device. Using microwaves, DNA probes from the patient sample can be detected and extracted. The device then uses an aptamer-based sandwich assay, to provide a result that states what's affecting the patient and what the recommended prescribed antibiotic is.
Tina added, "Any DNA that relates to antibacterial resistance (ABR) is detected, and the device gives the result in 5 minutes. Then the clinician can prescribe accurately the best treatment."
The project has gained positive media attention and Tina will be featured in an upcoming BBC One documentary, 'The Truth about Antibiotics', set to air on 30 January at 8 pm. This programme will be fronted by Angela Rippon, pictured above with Tina.
For more details about Tina's project, see her article in The Biomedical Scientist.
Back to news listing