Pride in London 2022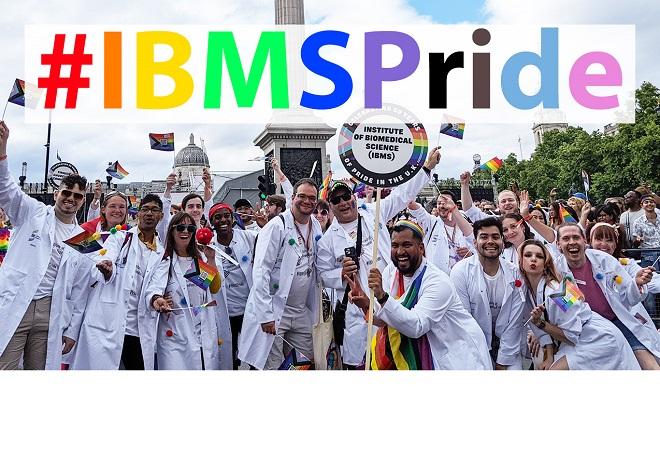 4 July 2022
On Saturday, our members marched at Pride in London for the first time

Pride in London, the UK's biggest LGBTQ+ parade, was celebrating its 50th anniversary on Saturday and the IBMS and our members marched for the first time. We had signed up in 2020 but COVID-19 forced the parade into a two-year hiatus. This weekend, our members finally had the chance to don their lab coats and wave their rainbow flags on behalf of the profession.

The parade was led by the Gay Liberation Front, which organised the first UK protest in 1972. Tens of thousands of people marched and danced behind them through the capital to Trafalgar Square. The event took over the centre of London, with floats blasting out music, and crowds lining the streets and cheering their support.

As a professional body, we were keen to support Pride and show the world that the biomedical science profession values equality, diversity and inclusivity. Our chant of the day quickly became: "Two-four-six-eight, science does not discriminate! Four-three-two-one, science is for everyone!"

Our members were in great spirits, handing out fuzzy bugs and stickers and enthusing the crowd. At various points in the procession we had scores of people chanting: "I-B-M-S! I-B-M-S! I-B-M-S!"

IBMS member James Cameron marched with us and commented:
For me, pride was an incredible way of showing the public that science is for everyone. Men, Women, non-binary, straight, gay and everyone in between. Hopefully we made a difference by showing that STEM subjects and careers are for everyone!

Although tolerance is more widespread, it is important that we do not become complacent when supporting our LGBTQ+ members. Less than 50 years ago, homosexual acts were illegal in the UK and it was not until 2003 that discrimination in employment on the grounds of sexual orientation was prohibited.

As recently as 20 years ago, the issues at stake could have had a potentially huge and negative impact on some of our members' careers and working lives. It is worth remarking that the parade was not free of protesters who would prefer that these basic human rights and dignities were removed.

IBMS member Matthew Burdett marched with us and commented:
I was once told that I would never get into healthcare because I'm gay. There may be others who have gone through a similar experience and might have anxiety around their identity. Marching as a profession allows others to see that it doesn't matter who you are or what you identify as - it shows that everyone will be welcomed and supported. It's important that everyone feels included and that science really is for everyone.
Despite the small amount of protesters, Pride in London felt like an extremely positive and happy experience - a chance for our LGBTQ+ members to celebrate their hard-won rights and freedoms, express their acceptance of everybody in the profession and also revel in their pride for their profession.

IBMS member Tunch Akmandor marched with us and commented:
I loved every detail of the parade; it was fabulous, exciting, joyful, connecting, supportive and full of happiness.
The IBMS was happy to support Pride, keen to march with our members and we hope to march again in the future.


Throughout the event the IBMS and our members were tweeting:
Here we go! So proud of ALL our members today! #IBMSPride #PrideInLondon #Pride pic.twitter.com/CKT4pArYl2

— IBMS #AtTheHeartOfHealthcare (@IBMScience) July 2, 2022
Yesterday was amazing here is a short clip of us marching through #picadillycircus SOUND UP London heard about the IBMS!!! @IBMScience @PrideInLondon #IBMSPride #PrideInLondon #biomedicalscience pic.twitter.com/exerrMTAhe

— Francis Yongblah ???????? (@TheHealthcareS1) July 3, 2022
So proud of everyone! Happy pride! ???? #PrideInLondon #IBMSPride #Pride #LGBTQIA #LGBT #IBMS #BiomedicalScientist pic.twitter.com/ttcKJEGV1b

— Matty LIBMS ???? (@MatthewBurdet11) July 2, 2022
Back to news listing