Promoting Blood Cancer Awareness Month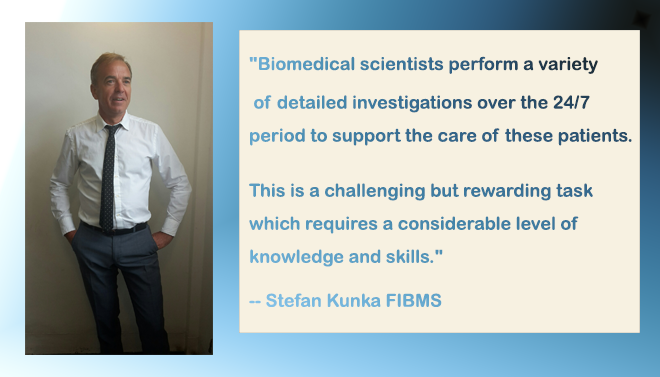 24 September 2018
We spoke with a biomedical scientist and Bloodwise about treating blood cancers
Last September was Blood Cancer Awareness Month. Supported by Bloodwise, the blood cancer research charity, in order to raise awareness of the fifth most common type of cancer in the UK. There are more than 100 individual types of blood cancer, with more than 38,000 people diagnosed each year.
For a biomedical scientist's perspective on how blood cancers are treated, we spoke with Stefan Kunka, who works in the haematology and blood transfusion rapid response laboratories at Health Service Laboratories (HSL). They provide diagnostic services and provision of blood products to the cancer patient population and University College London Hospital (UCLH).
He said,
"Biomedical scientists perform a variety of detailed investigations over the 24/7 period to support the care of these patients. This is a challenging but rewarding task which requires a considerable level of knowledge and skills.
Blood cancers, such as leukaemia, are clinical conditions that biomedical scientists study at university. We are aware of the implications of laboratory results for patient diagnosis, treatment and clinical outcomes.
For example, identifying the reappearance of leukaemic cells in the blood of a patient in remission will prompt crucial clinical intervention. Providing blood products to bone marrow transplant patients with complicated transfusion requirements requires extensive laboratory analysis but ultimately gives the patient the prospect of recovery following chemotherapy.
A touching example I witnessed last Christmas Day was when the results of haematological investigations confirmed that a sibling of a patient with acute leukaemia had responded to Granulocyte-colony stimulating factor (GCSF) therapy. This meant that they were able to donate bone marrow to their critically ill sister - giving her a chance of survival from this deadly disease. Surely that's the best Christmas gift anyone can receive."
Liz Burtally, the Research Communications Manager at Bloodwise also spoke with us about the statistics of blood cancers in the UK. She added,
"New figures show that one in 19 people will be diagnosed with a blood cancer, such as leukaemia, lymphoma or myeloma, in their lifetime.
"Biomedical scientists like Stefan are key to ensuring we deliver the best care for people living with blood cancer. We know that early diagnosis or detecting when blood cancer is returning after someone has been in remission can have a significant impact on outcome for patients, so we really need experts working round the clock to ensure this happens.
"As we move into an era of personalised medicine – where treatment is tailored to the individual patient according to the biological make up of their cancer – we will be calling on even more support from diagnostic services."
By highlighting stories like Stefan's and sharing the valuable work of biomedical scientists, we aim to inspire more people to join the profession and make an impact on treating blood cancers, with a hope to eradicating them forever.
Back to news listing