Every member's voice - Olivia Coffi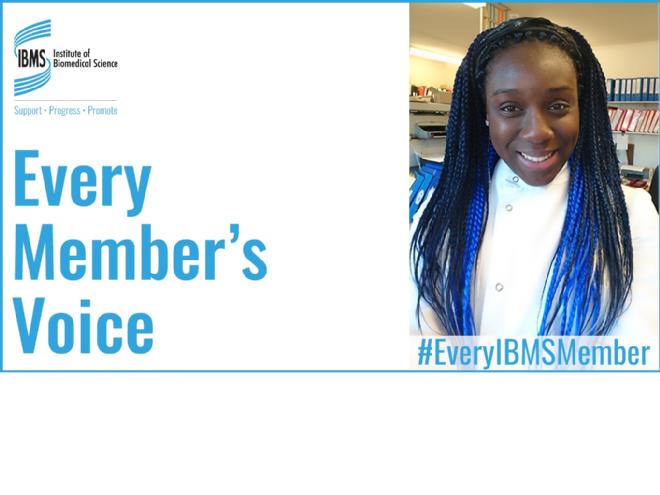 27 July 2020
The IBMS is proud of every member and seeks to support and promote everybody's role in biomedical science
IBMS members of Black, Asian and minority ethnic (BAME) ethnicity have been disproportionally affected in the UK by the COVID-19 pandemic, whilst the Black Lives Matter campaign has highlighted the need for greater understanding of the day-to-day issues of prejudice that many of our members face.
Therefore, we are asking our BAME members to contact us so that we can create a series of case studies. These will be used for an ongoing campaign of support and recognition to highlight the diversity of our membership and to show the value and strength that diversity brings to the biomedical science profession.
Our first case study comes from a member who contacted the IBMS to ask us to show our support and to recognise the contributions of our BAME members to the profession.
Olivia Coffi
To start, could you tell us about yourself - who you are and what you do.
My Name is Olivia and I am a biomedical scientist working in reference biochemistry at King's College Hospital, London.
As a BAME member of the biomedical science profession, what barriers do you feel you have had to overcome in your career?
Within the laboratory environment I feel I have had to work significantly harder to prove my ability to others. However, I have been given the opportunity to make suggestions for improvement, take on bigger tasks and participate in decision making - all of which might lead to career progression but more importantly job satisfaction.
I work hard to create opportunities: joining the STEM Ambassador program, and participating in online MSc modules, webinars and seminars so that one day I am able to obtain a more senior post. Hopefully, I will be able to educate new BAME biomedical scientists and show them that progression is possible and that BAME scientists can hold senior positions within the laboratory and the IBMS.
What more do you feel can be done to eradicate discrimination in biomedical science laboratories and improve career opportunities for BAME members?
In all the labs I have worked in I have not seen many BAME members in senior or managerial positions and of those very few females. I hope that in the future more career opportunities in senior positions are opened up to BAME members to reflect the diversity of laboratory staff. I think this can be done by creating roles within the laboratory and in the IBMS; such as diversity representatives for difficult times like currently with the Black Lives Matter movement, as well as Black History Month and other cultural festivities.
It will be great to see the IBMS using its platforms to reach out to people across the country, showcase the amazing work done by BAME biomedical scientists, inspire future BAME biomedical scientists and erase the stereotype of what a scientist looks like.
Has membership of the IBMS helped you and what more do you think could be done to support BAME members?
Being part of the IBMS has given me excellent access to resources and provided me with professional development opportunities. For instance, I have recently completed my Specialist Clinical Biochemistry portfolio. However, as a follower of the social media platforms and website, I feel that BAME issues such as the Black Lives Matter movement and the disproportionate effect on BAME people COVID-19 are not mentioned or recognised enough.
BAME staff suffering from stress related illness or mental illness from the constant uncertainty and changes (not to mention some of the traumatising images and videos seen in the media recently) should feel supported by the IBMS through advertised links to helplines, charities or any support and resources available to members outside of their individual trust's policies.
How do you feel the COVID-19 pandemic has changed your role as a Biomedical Scientist?
As a biomedical scientist the COVID-19 pandemic has not significantly changed my role but rather highlighted the excellent processes and procedures already in place regarding PPE, hand washing and general infection control and contamination processes.
The COVID-19 pandemic has shown that our laboratories can adapt almost overnight to an ever-changing situation with minimal disruption to service users - despite battling with stock issues, low staffing, increased workload and stress and uncertainty.
I am proud to be at the heart of healthcare and applaud all biomedical scientists who have continued to work hard and adapt during lockdown.
Get in touch
To help the IBMS celebrate the vital role and contribution of our BAME members in biomedical science, we are asking for members to contact us for a series of further case studies. Please contact communications@ibms.org if you would like to get involved.
Additional resources
As an IBMS member, you can access free resources if you are affected by any issues in the workplace or at home. Using your website login to access MyIBMS, members can access a legal assistance helpline and find professional advice and counselling service through IBMS Additions (Wellbeing Support Services).
Back to news listing