QAA publishes new Subject Benchmark Statement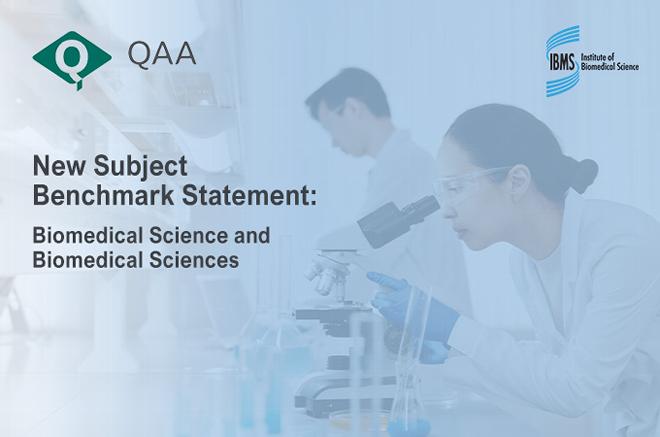 8 March 2023
The new Biomedical Science subject benchmark statement summarises what graduates are expected to know, do and understand at the end of their undergraduate degree.
Earlier today, the Quality Assurance Agency (QAA) published a series of new subject benchmark statements, including one for Biomedical Science and Biomedical Sciences, and another for Biosciences. As an independent charity working to benefit students, the QAA is responsible for maintaining the quality and standards of higher education provision.
The new benchmark statement released today, for Biomedical Science and Biomedical Sciences, describes the indicative taught content and academic standards expected of graduates in these subject areas.
The references to 'Biomedical Science' (singular) in the QAA statement includes all key clinical laboratory specialities: medical microbiology; clinical biochemistry; haematology and transfusion science; clinical immunology; cellular pathology and clinical genetics. New areas included are point of care testing and quality management.
For the subject area of 'Biomedical Sciences' (plural) the subject benchmark statement refers to broader content that may encompass other human biology courses as well.
Importantly, the updated statement will help higher education bodies to understand what Biomedical Science(s) graduates might reasonably be expected to know at the end of their studies.
Professor Mary Hannon-Fletcher, IBMS Fellow and Chair of the QAA Advisory Group for Biomedical Science, comments:
"This new Statement offers clarification between Biomedical Science and Biomedical Sciences courses for the first time. It encompasses the broad range of disciplines in Biomedical Sciences and the specific disciplines in Biomedical Science including new technologies, excellence in clinical practice and research-informed teaching, and innovative teaching delivery. Importantly, it also reflects the subject's strengthening attention to equality, diversity and inclusion, and sustainability.
We hope that the revised Statement will provide the framework to support the delivery of future-proofed Biomedical Science(s) programmes across the UK and drive excellence in this field."
Colleagues will be asked to map their IBMS Accredited Biomedical Science degree programme curriculum to the updated clinical specialisms included in this 2023 QAA Subject Benchmark Statement from 2023 onwards.
The full document can be downloaded here: QAA Subject Benchmark Statement: Biomedical Sciences
Back to news listing