Rebecca Shepherd wins gold at STEM for Britain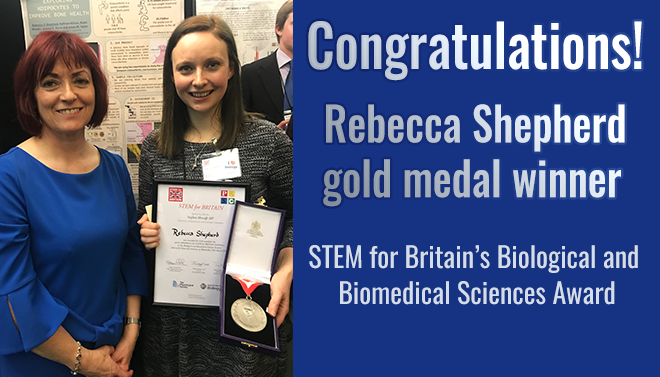 19 March 2019
IBMS member Rebecca Shepherd wins the gold medal for biological and biomedical sciences at the annual STEM for Britain poster competition
Sponsored by Stephen Metcalfe MP and hosted at the House of Commons, the STEM for Britain poster competition gives early career researchers in STEM fields the chance to showcase their work to politicians and guests.
STEM for Britain was created by Dr Eric Wharton, who wished to encourage a positive working relationship between early career scientists and their MPs, and to offer a platform for these researchers to promote their latest work in Parliament.
The IBMS is passionate about supporting research in biomedical science and has proudly sponsored these awards since 2012. This year, we sponsored the silver and gold medals for the biological and biomedical categories.
The winners of the awards were:
Gold medal –Rebecca Shepherd from Lancaster University, for her poster on exploring adipocytes to improve bone health
Silver medal - Max Grogan from Kings College London, for his work on microbial and metabolomic responses to serotonin in the murine gut
Bronze medal - Sophie Harrington from the John Innes Centre, for her poster on understanding the molecular regulation of senescence in wheat
IBMS President Alison Geddis, Executive Head of Membership and Marketing Lynda Rigby and Communications Manager Dan Nimmo attended the event, along with IBMS members Siobhan Taylor and Ashleigh Hale, who presented a poster on Clostridium Difficile in horses in Australia.
Rebecca said,
"It's amazing for my research to have been recognised with the gold medal. STEM for Britain was an excellent event. I had the opportunity to discuss my work with MPs, policy-makers and leaders of scientific bodies. It was a fun challenge explaining my work to those outside of biological sciences, and I enjoyed meeting other early-career researchers from different fields.
I presented a poster on my Anatomical Society-funded research which looks at the anatomical role of fat cells (adipocytes) in bone marrow and how these may contribute to the formation of anatomical structures in osteoarthritic bones.
Prior to starting my PhD, I worked as a biomedical scientist in cellular pathology. My background working in the NHS has provided a great foundation for my research."
IBMS Fellow Dr Sarah Pitt was on the judging panel for the Biological and Biomedical Sciences Exhibition. Sarah commented,
"There were 103 abstracts initially submitted for the competition from scientists across the UK. The posters presented on the day had been selected via several rounds of shortlisting. Judges were looking at the quality of the poster and the calibre of the scientific work, but an important feature was how well it was explained assuming a non-specialist audience (i.e. their local MP). All the posters presented were of a very high standard. Rebecca's poster was nicely laid out and easy to follow. She had explained all her technical terms clearly and illustrated everything with helpful diagrams. She also discussed her research and the possible applications of her findings enthusiastically with the judges."
The Division of Biomedical and Life Sciences at Lancaster University tweeted:
Congratulations to PhD student Rebecca Shepherd @special_stains of the @DrJemmaKerns & @Adatomy groups @LancasterUni on winning gold at #STEM4BRIT19 ! https://t.co/fDBFQ6QCRf

— BLS@LancasterUni (@BLSLancasterUni) March 13, 2019
Dr Jemma Kerns tweeted:
Congratulations Rebecca @special_stains on being awarded Gold in the Bioscience category, excellent achievement @STEM4Brit #STEM4BRIT19 @LancasterUni @LancasterMedSch #proudsupervisor https://t.co/mYSLyYnPQj

— Dr Jemma Kerns (@DrJemmaKerns) March 13, 2019
The Royal Society of Biology tweeted:
The winners of this year's @STEM4Brit science in parliament competition are...

Sophie Harrington from @JohnInnesCentre who won bronze, Max Grogan from @KingsCollegeLon who won silver, and Rebecca Shepherd from @LancasterUni who won gold! #STEM4Brit19 pic.twitter.com/kINH5475ge

— Royal Society of Biology (@RoyalSocBio) March 13, 2019
STEM for Britain added:
Congratulations to the winners in the bioscience category

Bronze - Sophie Harrington
Silver - Max Grogan
Gold - Rebecca Shepherd #STEM4BRIT19 #ScienceInParliament pic.twitter.com/rvbAOPdQ60

— STEM for Britain (@STEM4Brit) March 13, 2019
We offer our warm congratulations to all the winners and researchers at STEM for Britain, and wish them the best of luck with their ongoing research.
Back to news listing