Science Council honours IBMS members at CPD Awards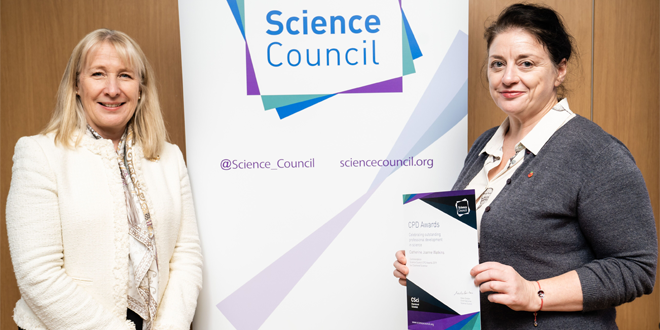 8 November 2019
IBMS members receive awards and commendations at this year's Science Council CPD Awards
The annual Science Council CPD awards took place at the Institute of Physics on 7 November, celebrating five years of excellence. The awards celebrate the continuing professional development (CPD) efforts and achievements of registrants from across the Science Council registers: Registered Scientist (RSci), Registered Science Technician (RSciTech), Chartered Scientist (CSci) and Chartered Science Teacher (CSciTeach).
Awards and commendations are given for an individual's commitment to undertaking work-based and self-directed learning. The work has to meet high professional standards and demonstrate that it has benefited the quality of their practice, their service and their colleagues, patients and clients.
Three IBMS members were recognised for their exceptional CPD:
Katarzyna Sala, RSciTech (Winner)
Sheri Scott CSci (Commendation)
Catherine Joanne Watkins, CSci (Commendation)
Katarzyna said: "I have been working in the science field for the last 11 years and I am extremely proud for my work to be recognised by the Science Council. I am honoured to receive the CPD Award this year and I believe this will motivate me even more to maintain the high standards of work and to continue my professional development in science."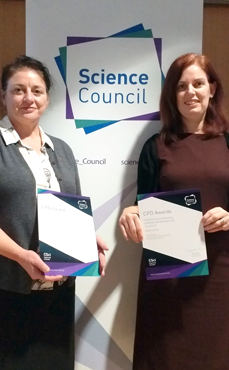 Joanne added, "This is one of the fantastic things you are awarded as an individual, but because of the process of CPD, I believe my team and colleagues also benefit. We support each other to continue learning for the benefit of the patients."
Sheri commented, "It's really nice to be recognised by the Science Council. I'm delighted to have this chance to promote CPD, as it's not just about developing yourself, but also your colleagues, your workplace, everyone benefits from the skills you've gained during your CPD. It's important for your professional development to do CPD."
Christian Burt, Professional Support Services Manager said:
"It was a real privilege to attend the Science Council CPD awards 2019 and listen to the fantastic talks on differing approaches to lifelong learning.
Those in attendance demonstrated both traditional and innovate ways to meet the Science Council CPD standards across all four registers. It was, therefore, particularly pleasing that the IBMS continues to provide a CPD scheme that enables our members to record, reflect and plan CPD activities.
Huge congratulations to IBMS member Katarzyna Sala for winning the RSciTech CPD award category, and to our Chartered Scientist registrants Joanne Watkins and Sheri Scott for their commitment to self and service improvements through first-class CPD maintenance and defined future planning."
The Science Council tweeted:
We celebrated our 5th year of #CPDAwards last night, recognising the high professional standards and dedication to continuing professional development of our registrants. Thank you to everyone who made the event possible. Check out the photos from the night below: pic.twitter.com/Z4BAlQ9Ny8

— Science Council (@Science_Council) November 8, 2019
On behalf of the Institute, we are proud of our members for their achievements and wish them the best of luck in their careers.
Back to news listing