Seven IBMS members on Pathologist's Power List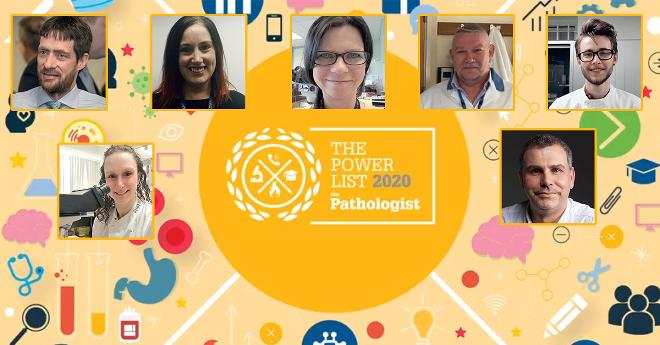 3 August 2020
From motivating mentors to trailblazing innovators, social media gurus to laboratory medicine heroes, it is the inspirational individuals who make the Pathologist's Power List
Cherie is a Biomedical Scientist in Microbiology at the Princess Alexandra Hospital NHS Trust in Harlow. Described by nominators as a "true leader and inspiration within microbiology," Cherie founded #IBMSChat, a monthly Twitter gathering of biomedical scientists from across the globe, to share ideas and advice. She received the IBMS Amazing Individual Award in 2019 for her excellent advocacy work and regularly uses social media to promote biomedical science. "The COVID-19 pandemic has thrust our profession into the limelight – and we have an obligation to raise its profile and positively promote the work we do," says Cherie.


Matthew Burdett
"My favorite thing about the field I work in is that each day is different and there is always something new to learn," says Matthew, Medical Technical Officer at Unilabs in London. As a trainee biomedical scientist, he was among the winners of the IBMS Mary MacDonald award in 2019, reflecting his passion and dedication for the field. Nominators praise his professional approach and willingness to learn and teach others, demonstrated through his work as a STEM Ambassador. Matthew has great potential and participates in regular outreach activities to help others pursue a career in biomedical science.


Ian Davies
After working as a biomedical scientist for 20 years, Ian is now a Senior Lecturer at Staffordshire University, where he leads a degree apprenticeship in Healthcare Science. He developed this program himself to create a sustainable and agile pathology workforce through both academic study and work-based education. Ian received the NHS England Chief Scientific Officer's Award for Excellence in Education Delivery in 2018 – but his students are his proudest achievement. "The Healthcare Science course helps those from nontraditional backgrounds pursue a career in biomedical science. Widening the opportunities to participate benefits the whole workforce from a diversity of experiences."


Jo Horne
Jo is an Advanced Practitioner Healthcare Scientist in Cellular Pathology at University Hospital Southampton NHS Foundation Trust. Specializing in gastrointestinal and hepatobiliary histopathology, she was crowned Biomedical Scientist of the Year for 2019 by the IBMS. Jo was the first person in the UK to pass a histopathology reporting diploma program – and she is a passionate advocate for career development of Healthcare Scientists working in pathology. Her advice? "For those who are further ahead in their career, don't forget how difficult it can be at the start. Be the person you needed when you were at that early stage!"
Hayley Pincott
Hayley is an Associate Practitioner in the Oral Pathology and Microbiology department at Cardiff and Vale University Health Board. Dedicated to raising the profile of her field, she is a STEM Ambassador and regularly participates in outreach events to engage children and adults in science. "I would love to change the recognition we get as a workforce, both from the public and other healthcare professionals," says Hayley. "When I participate in outreach events, the public are really interested in what we do; it's always a positive experience and a great opportunity to demonstrate the scope of our various disciplines."


Malcolm Robinson
After 43 years as a biomedical scientist, Malcolm retired in 2019 to focus on the charity he founded. Set up in honor of a young cancer patient who was curious about diagnostic medicine, Harvey's Gang has now expanded to over 100 laboratories and provides tours for young patients and their families. Not only do these tours help children understand their illnesses and treatments, but they also introduce healthcare scientists to the patients they wouldn't usually meet. "I want to continue building Harvey's Gang to educate and empower young patients who are going through so much in their healthcare," says Malcolm.
David Wells
David is a biomedical scientist currently working as Head of Pathology at NHS England's COVID-19 Testing Cell. Nominators term him an "unsung hero of the COVID-19 pandemic who has been a calm and steady voice as the NHS built a nationwide testing service from scratch." David has shown strong leadership and remains a leading voice for improving pathology's visibility. "Our field is filled with some of the finest clinicians and scientists, all of whom have recently demonstrated their ability to respond to an international health emergency quickly and effectively, supporting innovation and technology adoption," says David.
Back to news listing