Sharing your Harvey's Gang stories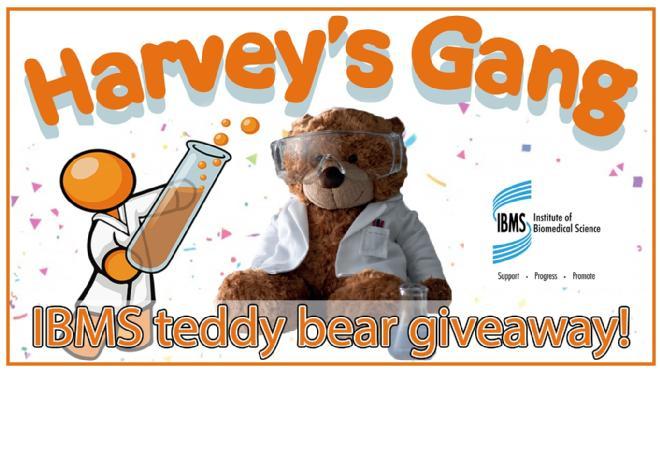 16 April 2021
Thank you for sharing your Harvey's Gang stories for a chance to win the teddy bear on the cover of this month's The Biomedical Scientist!
Last week we started a contest in partnership with Harvey's Gang, asking you to share your stories working with the charity for a chance to win the teddy from this month's cover feature in The Biomedical Scientist. We've been moved by your submissions so far and are thrilled to share some of them here!
To enter, please share your story via our social media channels on Facebook, Twitter or Instagram, or email communications@ibms.org by 30 April.
Gayle Johnstone, Biomedical Scientist at Dumfries and Galloway Royal Infirmary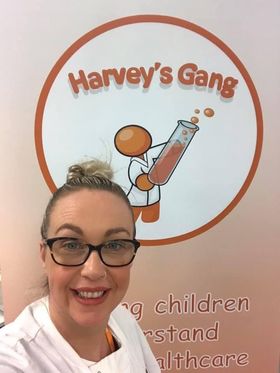 On the 10th April it was our two year anniversary of our first Harvey's Gang tour! Since starting the tours we have had 13 amazing superstars become scientists for the day. Their faces when we present them with their very own lab coat and goodie bag is priceless. We also include any siblings that join the tours too. We feel it's so important to include them too as having a sibling who is under paediatric care can be very hard on them.
Armed with their lab coats and activity sheets we show the children and their family around the labs. When we explain how their bloods arrive and the processes involved the recognition of this is brilliant. Finally they can picture all the steps involved and the 'grey' area disappears. The beauty of Harvey's gang is finally allowing these children and their families to get the full picture instead of all the unknowns. It's so empowering!!
During the tours we let the children look at blood slides (ever better when it's their own blood), do colour changing experiments Which can result in making dinosaur, alien or unicorn blood! And place their samples on the RSA which is like a big robot. We do so many other activities it's a jam packed tour of fun but also educational.
For me as a scientist Harvey's Gang has ignited my love for science again.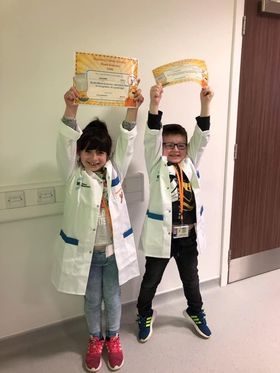 The excitement I feel on the morning of each tour is brilliant. Every tour is different and the questions can be funny and challenging which I love. The feedback we have received from each family has been amazing. The fears have disappeared, treatments and getting blood taken is less harrowing and bringing your own samples to the labs is cool! This makes me proud to be a Biomedical Scientist.
Since the pandemic we have reached out to all the children who have been on our tours to say that we are super proud of them and that Harvey's Gang are always here for them if they ever need us. It's not just a charity, it's a family and and one I am very to be part of.
Stephanie Lynne from Blood Sciences at Newcastle Hospitals shares the story of Hamza and Safina visiting the lab with Harvey's Gang in October 20218.
We began the visit with Hamza and Safina, who were 9 and 5, booking in a sample in reception and sending a pod around the hospital. They then loaded some samples onto the MPA and watched it pass along the track. pic.twitter.com/E0PakPeXoi

— Blood Sciences Newcastle Hospitals (@BloodSciences) April 15, 2021
In Haematology we looked at some blood films, and identified the different types of cells. We also looked at a blood film from a patient leukaemia so they could understand what we look at when we look at their brother's blood. pic.twitter.com/YCq9xKRhlb

— Blood Sciences Newcastle Hospitals (@BloodSciences) April 15, 2021
Finally Hamza and Safina were presented with goodie bags and a certificate! pic.twitter.com/DmImO2dzuU

— Blood Sciences Newcastle Hospitals (@BloodSciences) April 15, 2021
Rebecca Whitehouse, Division of Laboratory Medicine at Manchester University NHS Foundation Trust
Rebecca Whitehouse from Manchester University NHS Foundation Trust submitted this wonderful poster sharing Harvey's Gang stories from the Division of Laboratory Medicine. Rebecca also shares Emilia's story visiting the lab with Harvey's Gang.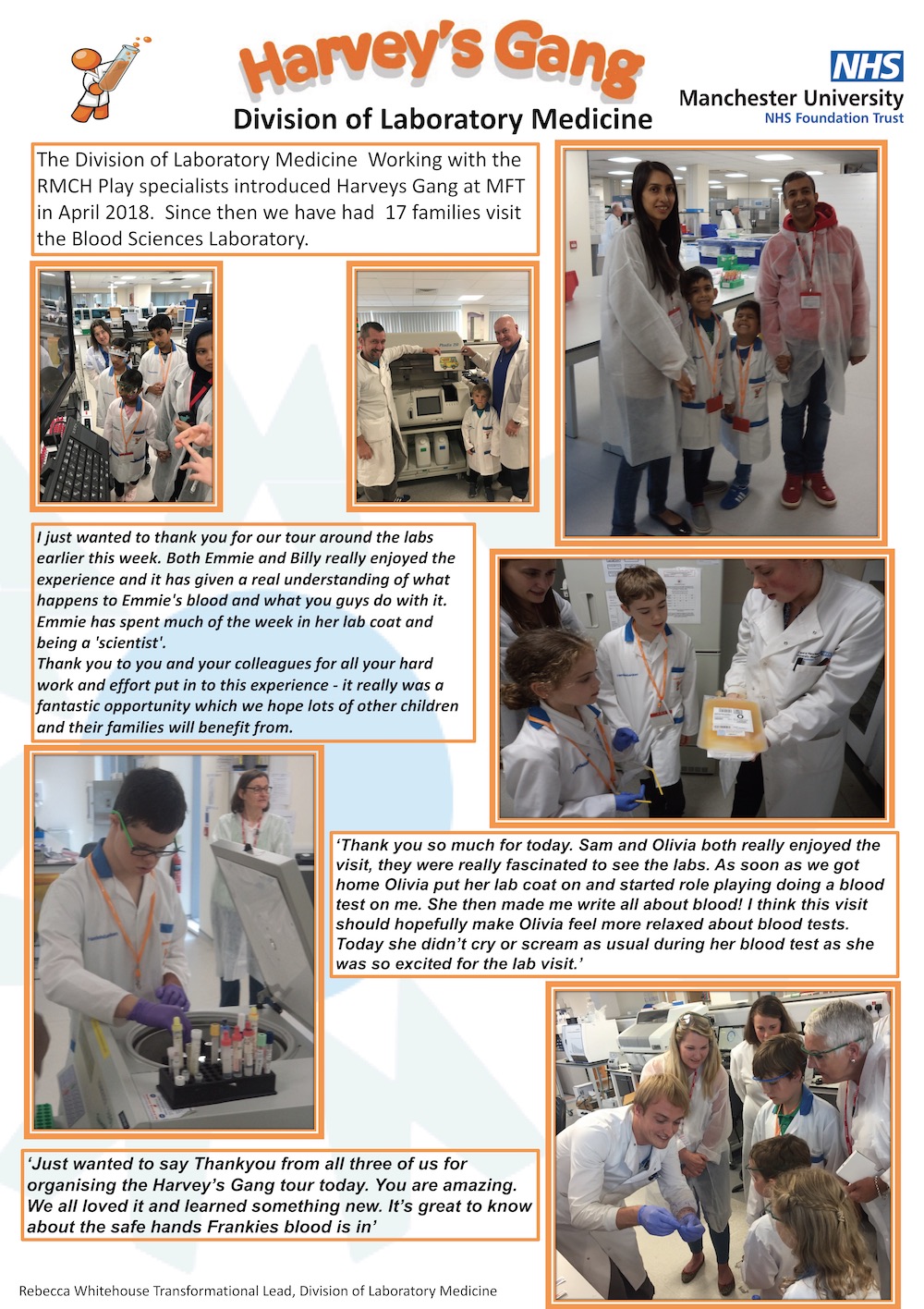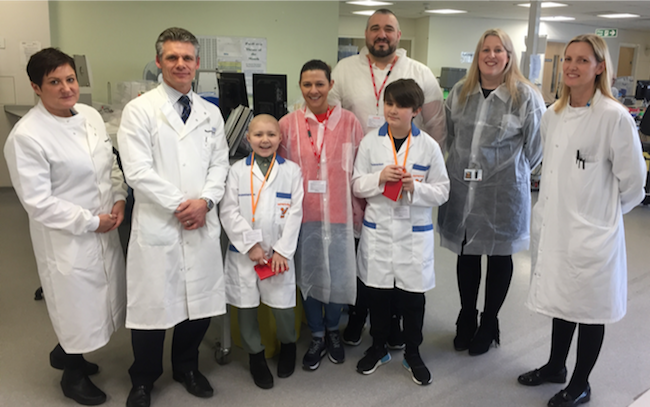 In April 2018 Emilia (Emmy) and her family, parents Eve and Steve and brother Billy, visited the Division of Laboratory Medicine. Emmy was diagnosed with ALL in September 2017 and has been on ward 84 for her treatment. Emmy wanted to know 'where her blood goes' and 'why does it take so long?' She also said she wanted to see the 'Neutrophils and platelets down the microscope.'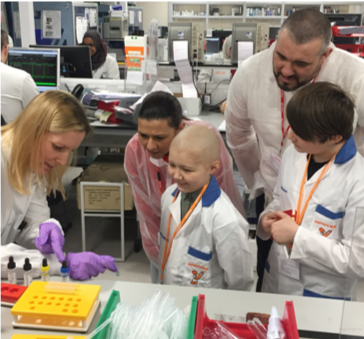 Emmy and Billy learned about blood groups and even guessed a few that they tested 'live'. They learned about blood products and got to see where and how the 'apple juice' (platelets) and bags of blood are stored. They also learned how we do a crossmatch and why sometimes, Emmy's blood might take longer than someone else's. Next, they saw the FBC machines and learned how they count the blood cells. The family spent some time in the morphology room and got to see blood films from a healthy patient and a blood film from a patient with ALL and asked lots of questions about different processes we have, including some around training and competencies of staff. Finally, Emmy and her brother left with a goody bag and got to keep their lab coats.
If you would like to get your laboratory involved in Harvey's Gangs tours or would even like to know how to best raise the issue with your line manager, please email Malcolm here: harveysgang@gmail.com
Back to news listing