Sharing member voices - Zonya Jeffrey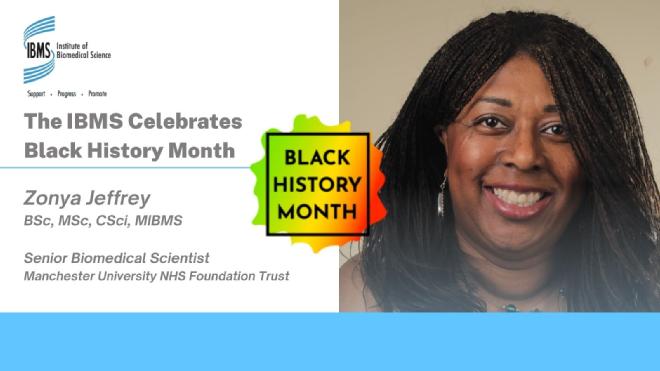 12 October 2021
The IBMS celebrates our black members & all they contribute to the profession this Black History Month - highlighting their voices & achievements throughout the month of October & beyond.
From when I was a young girl it seemed I always wanted to be a 'scientist' mixing up 'my potions' from the cupboards in the family bathroom!
I guess this was something that always stayed with me.
I feel so fortunate to have been able to shape my own career path in Biomedical Science.
My main discipline is Bacteriology. I have had the privilege of working in a variety of laboratories both here in the UK and overseas to incorporate the blood sciences and virology disciplines.
One of my biggest achievements was being able to take my skills and share them with colleagues overseas. Working alongside hospital staff in both Tanzania with Voluntary Service Overseas (VSO) and the reference laboratory scientists in Sierra Leone with WHO & PHE was very rewarding.
Pushing myself through challenging environments to get the best out of myself and really help those in need is something I enjoy about my work.
I continue to support the community in Tanzania, where I worked for three and a half years. This is via Health and Education programs run by my own charity, Child Aid Tanzania.
Over time, laboratory training has become a passion of mine and I have managed to use my developed skills and knowledge to provide training support to my UK and Tanzanian colleagues, trainees and students - the next generation of Biomedical Science staff.
I enjoy being a Biomedical Scientist and am proud to be a part of a profession that really is at the heart of healthcare.
Zonya Jeffrey BSc, MSc, CSci, MIBMS
Senior Biomedical Scientist, Manchester University NHS Foundation trust
Watch Zonya's video on working as a Biomedical Scientist in Tanzania and Sierra Leone
Want to contribute to our Member Voices for Black History Month campaign?
Email us at: communications@ibms.org
Back to news listing