Showcasing Biomedical Science in Northern Ireland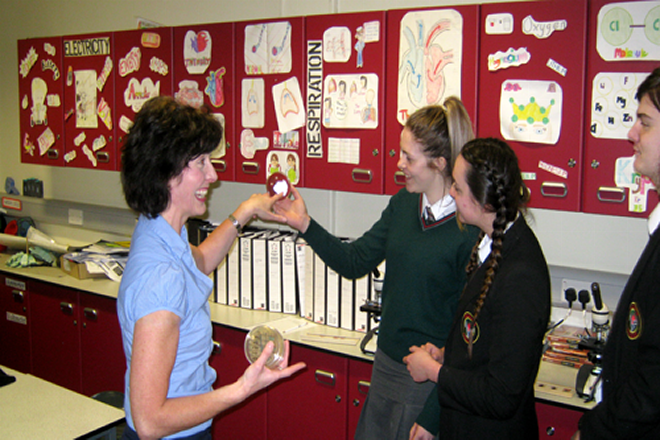 20 April 2017
IBMS member Elaine LeMahieu promotes biomedical science to students at college event
On 10th April, biomedical scientist Elaine LeMahieu FIBMS visited Drumagh Integrated College to speak with Year 13 and 14 students.
Below is Elaine's account of the day:
"My intention was to link our Biomedical Scientist role with the STEM choices that our students here in Northern Ireland are encouraged to participate in.
It went well and the students were really involved. During the practical work I was able to speak with them individually and they were eager to find out more. Many of them were not aware of the role of a laboratory within a hospital, so they were suitably intrigued.
I set up five workstations around the room for 25 students. Each workstation had brief instructions on how to process various samples and the equipment used to do this.
There was a microscope section where the students were recording what they saw using the X40 objective. I also showed the students a sensitivity plate, which encouraged them to ask me about antibiotics and why we use certain ones for different infections.
The agar plates that I had with me gave the students an opportunity to use an inoculating loop and get the feel of what it is like to streak out an agar plate for single colonies.
Haematology and biochemistry do not translate very well to practical work but we did talk about all the biomedical disciplines in the PowerPoint presentation that I gave on the day.
All of the students found the IBMS accredited biomedical degree information very useful. As most of the students took the promotional leaflets home, they will be better informed about the profession."
Do you want to get involved in public engagement events? Share your expertise and get involved today.
If you already have a public engagement event planned, contact us at pe@ibms.org and we will help you promote it.
Back to news listing