Siobhan Taylor selected for CSO WISE Fellowship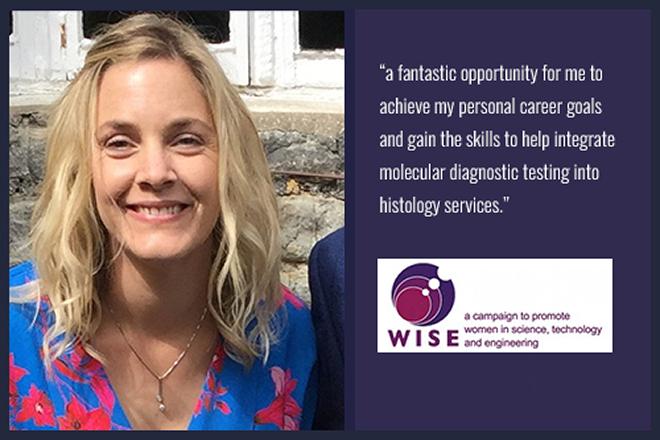 27 September 2018
Siobhan Taylor MIBMS has been selected for the prestigious Chief Scientific Officer's (CSO) Women in Science and Engineering (WISE) Fellowship
It is with great pleasure that we announce that one of the the four successful recipients of the third Chief Scientific Officer's (CSO) Women in Science and Engineering (WISE) Fellowship is an IBMS Member. The winner, Siobhan Taylor MIBMS, is the only Clinical Scientist within a large histopathology department at Gloucestershire Hospitals NHS Foundation Trust and is passionate about bringing together the disciplines of genetics and histology to maintain a current and relevant service.

Over the next 12 months, the CSO WISE Fellowship will give Siobhan the opportunity to be mentored by senior leaders in healthcare, industry and academia, as well as offering both speaking and ambassadorial opportunities through the CSO and WISE networks. She will also have the chance to join senior leaders at NHS England advisory meetings. Siobhan commented:
"I am delighted to hear that I have been selected as one of the 2018/2019 CSO WISE fellows. This is a fantastic opportunity for me to achieve my personal career goals and gain the skills to help integrate molecular diagnostic testing into histology services. I also aim to establish better networks across this area in order to drive the highest quality patient care"
We hope that Siobhan will share her experiences of the fellowship throughout the year and that her participation will enable her to inspire current and future generations of female healthcare scientists.
Back to news listing