Karlie Fallon wins the Mary MacDonald Bursary and Prize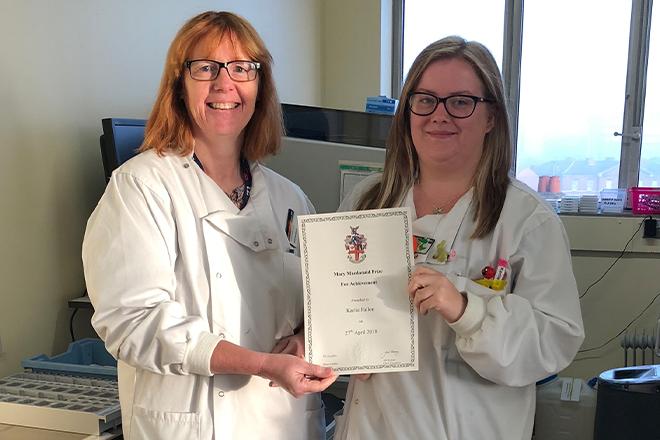 19 October 2018
Karlie Fallon talks about her experience of winning both the Mary MacDonald Bursary and the Mary MacDonald Prize
Karlie Fallon (pictured right), a past winner of the Mary MacDonald Bursary, has now completed her Certificate of Achievement Part II and gone on to win the Mary MacDonald Prize for Achievement. As a result, she has also earned a complex and rewarding role in her laboratory.
The Mary Macdonald Prize for Achievement and the Bursary were established in memory of former IBMS Council member Mary Macdonald. Mary is remembered as an outstanding professional, colleague and mentor, who began her career as a laboratory support worker and was keen to encourage and recognise excellence in others working in similar roles. She made a significant contribution to the Institute throughout her life, serving as an IBMS Council member and on a number of IBMS Committees.
Karlie has worked in healthcare laboratories for over 7 years, starting with an apprenticeship as a biomedical support worker in Northampton. For the past 4 years, she has worked in virology at Leicester Royal Infirmary (LRI), first as a biomedical science assistant and now as an associate practitioner. She helps support the biomedical scientists in testing for blood borne viruses including HIV, Hepatitis B and Hepatitis C. She performs molecular methods, which are used for Flus, Chlamydia and Gonorrhoea, prepares samples, sets up analysers and performs required maintenance. Her role also includes helping biomedical science assistants booking and registering samples, and sending them away for testing.
Karlie said:
"Winning the bursary was wonderful! It made completing the Certificate of Achievement that bit more special for me and my amazing team. We hugely benefited, as we all gained new knowledge, experience and skills. It was definitely a life changing experience!

I've worked so hard to achieve great things in my career within biomedical science. Winning the prize has given me a wonderful sense of achievement and I am extremely proud! I wouldn't be in the position I have found myself in today, without completing the Certificate of Achievement Part II from the IBMS, or all the help and support from all the wonderful people I've met throughout my career. But most importantly, my wonderful virology team at the LRI!"

Judi Gardner (pictured left) is Karlie's laboratory manager who supported her application for the bursary and prize. Judi commented:

"The Virology department here at the Leicester Royal Infirmary were thrilled when Karlie received the IBMS Mary MacDonald Bursary to enable her to work on the Certificate of Achievement Part II, as she was the first member of staff here to consider working towards this qualification.

It's fantastic that the work she put in, and the support of her colleagues and team leaders, has been recognised with this further prize, and we are hoping that it will further inspire our other biomedical assistants to look at this as a valuable route to demonstrating suitability for promotion. Congratulations, Karlie!"
The IBMS Mary Macdonald Bursary is awarded to enable biomedical science support staff to undertake the IBMS Certificate of Achievement Part I or II qualification and covers the cost of the IBMS Certificate of Achievement Part I or II portfolio and the Associate membership fees for the year in which the candidate is successful.

The Mary Macdonald Prize for Achievement is awarded annually to the best candidate completing the IBMS Certificate of Achievement Part II. The successful candidate is awarded a ticket to attend IBMS Congress.

Submissions for the Mary MacDonald bursary open between 1st and 31st January each year. You can find out more about how to apply here.
Back to news listing