The Biomedical Science Day Activity Fund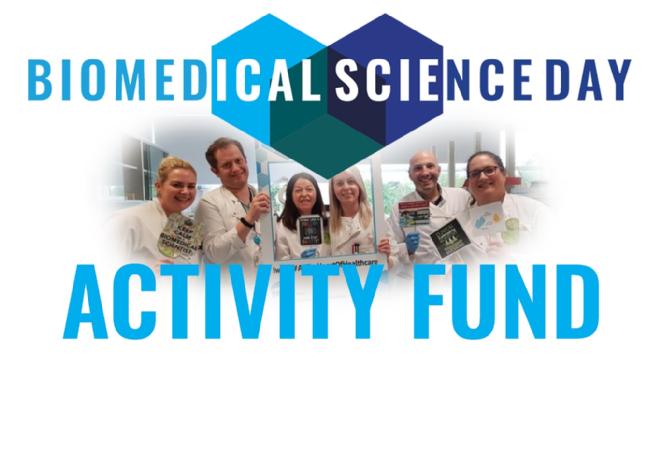 1 June 2021
Applications are now open for the Biomedical Science Day Activity Fund
After one of the toughest years in our professional history, we're looking forward to celebrating Biomedical Science Day 2021 and hope that restrictions are eased to allow some face to face activities to take place again.
If you are planning to organise events for Biomedical Science Day, consider applying for the Biomedical Science Day Activity Fund. The fund will provide grants of up to £500 for IBMS members to develop their biomedical science related activities and events.
Activities should aim to raise public awareness of biomedical science and demonstrate the value of the profession and its role in the prevention, diagnosis and treatment of infections and disease.
The grants may be used to support a range of activities and resources for experiments, exhibition space at careers events, marketing and communications materials, incentives and giveaways.
We recognise that not all members are able to participate on the day and therefore grants may be used for activities up to 30th September 2021.


How to apply
Please complete our online application form by Monday 14th June.
Please note: by providing the IBMS with the information requested you are consenting to its use as indicated in the IBMS Privacy Notice.
Further information can be found on the IBMS Privacy Notices webpage
After the deadline
Submissions will be reviewed and the successful applicants will be notified by email by Tuesday 8th June.
Successful applicants must show that their activity:
Is realistic, planned and has a well thought out budget
Applies a creative and innovative approach
Raises awareness of biomedical science to a wider audience
Funds of up to £500 per applicant will be transferred to the successful members who will have to provide receipts of all purchases.
If successful, applicants will be required to provide pictures of their event and write up their activities afterwards to demonstrate how the funds were used, which will be used for promotional purposes.
Should you have any questions, contact communications@ibms.org.
Using the funds in 2019…

Pathology Department, Altnagelvin Area Hospital


"Whilst the interaction in the main foyer and the tours were successful, the biggest success was the boost to staff morale and the interaction of staff with each other."
The Biomedical Science Day Activity Fund supported a laboratory open day, with information stalls in the front hall including Harvey's Gang, and a cake sale in memory of Joan Doherty (Biomedical Scientist) in aid of Harvey's Gang.

The seminar room was used as a starting point for tours of the laboratories. Visitors to the seminar room were treated to wall displays from each of the disciples, on loop PowerPoint presentations, with a trip down memory lane. Biomedical Science staff were available for questions and microscopes were set up with slides from tissue sections, positive blood cultures and blood films. During the tours, tour guides explained the journey of samples through the various disciplines, highlighting areas where common issues occur.

Tours also included laboratory reception and during one of the tours a delivery of samples had arrived and visitors exclaimed their shock at the volume of samples. The feedback from tours was positive. This feedback included nurse from AED, feedback to his staff the importance of correct form labelling decreases the time that required answering the phone to lab staff enquiring about a form.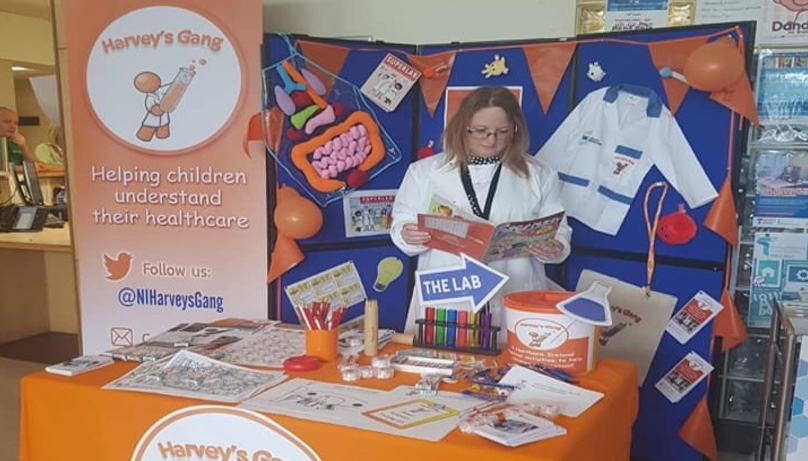 In conjunction stalls were set up in the main foyer of the front hall which mirrored the seminar room, in having a presentation on loop and microscope set up with tissue sections, positive blood culture stains and blood films as well as some biochemistry immunoassays. One stall had information about IBMS, biomedical science and laboratory information leaflets. The second stall was set up with information on Harvey's Gang, including leaflets, colouring in sheets, take away colouring crayons. The stalls were also stocked with pencils and mints. To complement the stalls Pop up banners were purchased using the fund money. One of the pop ups showed a variety of staff, who work at the heart of healthcare.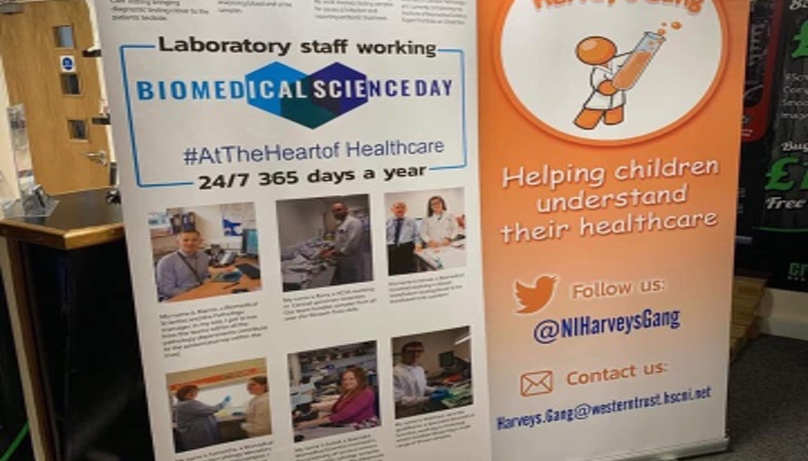 The rest of the fund was used to purchase a selfie board, with lots of selfie time.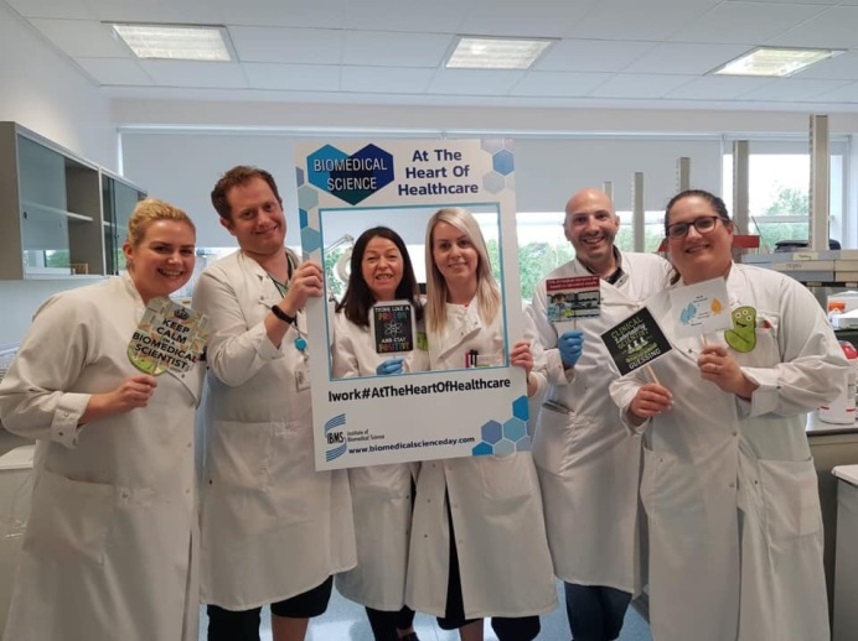 Overheard on the stairs: 'Quick, quick or we are going to miss the tour.'
It was a great opportunity for the lab staff to integrate and there was a good buzz around the labs. The labs are built over two floors with separate tea rooms. As the organising committee, we try to involve as many staff as possible whilst still providing a service - with hourly rotas for front hall and seminar room; giving staff a chance to mix and integrate. Memory lane was a huge hit with staff reminiscing.

The organising committee was made up of staff from various grades and from all disciplines. We wanted to encourage as many people to get involved and felt Biomedical Science Day was the perfect opportunity to bring the lab out of the lab. As with any busy lab, we are confronted daily with non-conformities and felt this was a unique opportunity to address some of the issues with a different approach, to bring better understanding to how our processes work. With the launch of Harvey's Gang, we also used this opportunity to promote, Harvey's Gang. Whilst the interaction in the main foyer and the tours were successful, the biggest success was the boost to staff morale and the interaction of staff with each other.


Back to news listing