The IBMS monthly statement - January 2022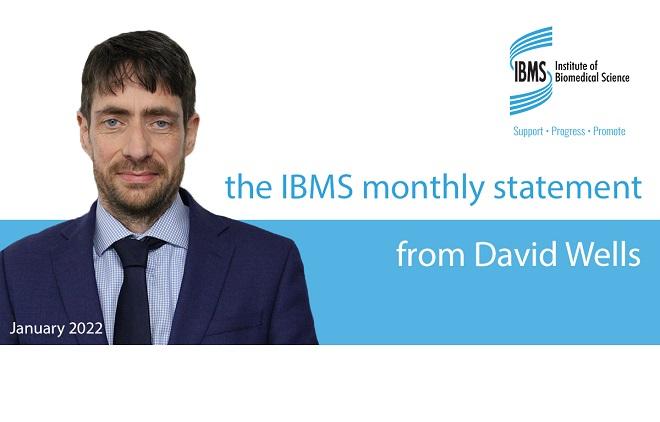 4 January 2022
David Wells thanks our outgoing President Allan Wilson and welcomes our incoming President Debra Padgett

New Year is a time of change. For the IBMS, it marks the end of Allan Wilson's Presidency and the beginning of Debra Padgett's.

I'm sure Allan had no idea what he was letting himself in for when he was voted in by Council. Being IBMS President during a pandemic meant a substantial number of public appearances and interviews with national and international media, and also participation in high-level public speaking events on behalf of the profession.

Throughout it all, he remained resolute and informed, and presented scientific and professional information objectively and with authority. In short, he did us all proud.

Allan also stayed true to his desire to champion advanced practice for biomedical scientists – making sure that the IBMS stayed on course to inform the public, healthcare professionals and commissioners of our services what we can deliver through advanced roles.

Debra Padgett's term as President begins alongside the IBMS' celebration of 100 years of female members. I'm glad to note that the IBMS embraced the scientific and professional accomplishments of women long before many of their basic rights and dignities were granted by the government. However, despite a 65% female membership, Debra is only our third female President, so we still have some catching up to do.

Debra entered the profession as a medical laboratory assistant and worked her way up to roles such as Quality Manager and Clinical Pathology Lead – so she has experience at every level of the profession. She understands how decisions affect each employee and has a special eye for detail and patient care.

On a personal note, I would like to say that Debra is a natural leader – because it is in her nature to inform and guide people. When I first joined IBMS Council, she was the person who approached to talk me through things and then at subsequent meetings continued to show me the ropes. Institutions like ours desperately need leaders like Debra to keep operations running smoothly and efficiently.

We can all be proud to call her our President and, as the highest elected representative of our members, I am looking forward to acting on her vision for our professional body.
Back to news listing