The Royal Society's Buchanan Medal 2022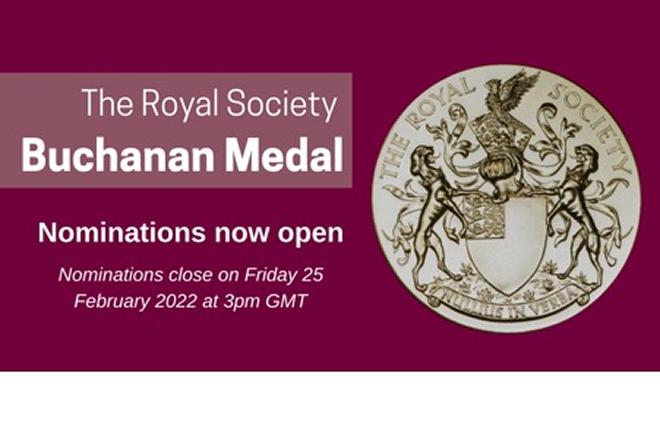 10 January 2022
IBMS members are invited to enter nominations for 'The Buchanan Medal', the Royal Society's flagship prize in biomedical sciences.
The medal is awarded for distinguished contributions to the biomedical sciences. The award was created from a fund to the memory of the physician George Buchanan FRS, former Chief Medical Officer of the UK, and was first awarded in 1897. The medal is of silver gilt, is awarded annually and is accompanied by a gift of £2,000.
The Royal Society commented:
"The Buchanan medal is open to UK/Commonwealth/Irish Republic citizens or those who have been residents for three or more years. There are no restrictions on career stage and nominations will remain valid and shall be considered by the award selection committee throughout three nomination cycles. Teams or groups may now be nominated for this award.
"We are happy to receive nominations for the other medals and awards that have opened this year. Further details on the awards that are currently open for nomination can be found here."
"Nominations can be made through The Royal Society website and the nomination will go to the awards committee for deliberation as part of our 2022 medals and awards cycle. Nominators and nominees do not need to be fellows to either nominate or receive any of the Society's awards."
The Royal Society is hoping to encourage a greater pool of nominators to nominate their peers and colleagues, but also to encourage group nominations for all the awards. So if you think you, a colleague or a working group within your trust or organisation has made an outstanding contribution to the field, we highly recommend submitting an application for this prestigious award.
Nominations must be submitted by the deadline of 3pm on 25th February 2022.
To view a list of past winners, visit The Buchanan Medal Page.
The Royal Society is the UK's independent scientific academy, dedicated to promoting excellence in science for the benefit of humanity.
Back to news listing