Triple win for IBMS members at BBTS awards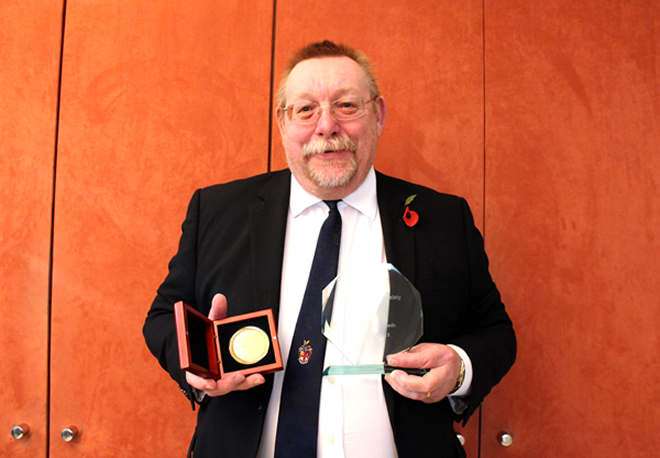 8 November 2018
The British Blood Transfusion Society recognised the achievements of three biomedical scientists
IBMS members Malcolm Needs, Malcolm Robinson and Nicole Thornton received awards at the British Blood Transfusion Society (BBTS)'s annual conference.
Malcolm Needs CSci FIBMS (pictured) received the BBTS gold medal, which is awarded to an individual for their exceptional and long-standing services to the Society and to the practice of blood transfusion in the UK. He said,
"I was both shocked and delighted to even be considered for this award, let alone to win it. The list of luminaries who have been awarded the Gold Medal includes only seven other Biomedical Scientists (including my own mentor Ms Joyce Poole), and to actually receive the award from another Biomedical Scientist, Bill Chaffe, who is the current President of the BBTS (and a Life Member of the IBMS) put the icing on the cake."
IBMS Licentiate Nicole Thornton won the Race and Sanger Award, in honour of Robert Race and Ruth Sanger. This award is given for involvement in research and development and making an outstanding medical or scientific contribution to transfusion medicine and science. Nicole added,
"It was an absolute honour to receive the award, especially since Rob Race and Ruth Sanger have such a special link to our laboratory."
Last but not least, Chief Biomedical Scientist Malcolm Robinson MIBMS was recognised for his work in founding Harvey's Gang, a children's charity that offers laboratory tours and shows severely ill child patients what happens to their blood sample. He said,
"I am a very proud Biomedical Scientist. I was humbled and honoured to receive a Certificate of Recognition from the BBTS for the work I have put into Harvey's Gang, helping enlighten and empower our young patients to help them in their battle with their own healthcare.
Through Harvey's Gang we have also ensured that our laboratory staff, particularly Biomedical Scientists have engaged and reenergized to ensure these young people get the most from their tours and it has been great CPD for us too!"
We are delighted these members' achievements have been recognized at the BBTS conference, and wish them all the best in their future endeavours.
Back to news listing