What are your Healthcare Science Week plans?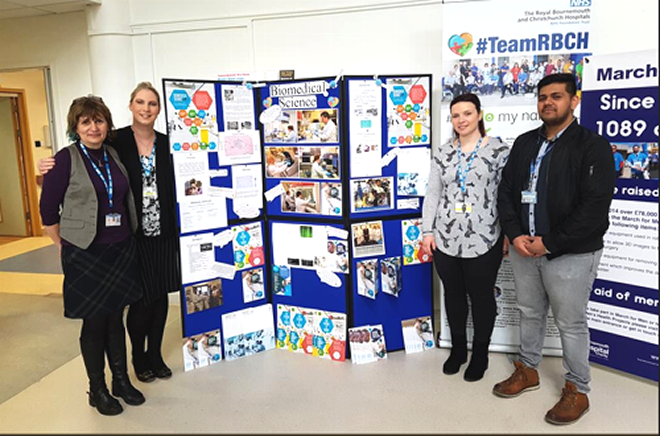 25 February 2019
Order your promotional items by 1st March
March sees the annual celebration of Healthcare Science Week and British Science Week. Running from 8-17 March, the week is set to be packed full of science events, and many IBMS members across the country will be taking part.
Are you getting involved in lab tours, interactive stands, lectures, school visits or blog posts about what it means to be involved in healthcare science?
If you're stuck for ideas, some of our members have shared their plans to celebrate healthcare science and raise awareness of the profession.
Our members' 2019 plans
Rebecca Whitehouse said,
"We will be presenting several interactive lectures aimed at secondary school children to promote Science as a career and will have some interactive displays and stands for the students to walk around and chat to scientists during their breaks and lunch."
Annie Cook added,
"We will be hosting a lunchtime presentation and table in our canteen for Healthcare Science week to promote our work in blood sciences."
Jacqueline Walker said,
"Our event will enable a showcase of the work undertaken by biomedical scientists, and educate the public and other healthcare professionals on the vital role biomedical sciences staff play in patient care."
For British Science Week, Rebecca Wright said,
"There's an event on Saturday that is open to the public. We will facilitate a Biomedical Science focused workshop and on Monday 11th we will run a BMS focused workshop for local primary schools."
Order your promotional items before it's too late
If you are planning to host an event and wish to order promotional items, we encourage you to do so very soon. We ask our members to give us five days' advance notice of their events in the UK (10 days' notice for overseas events) in order for us to prepare and ship their items in time.
For example, if your event starts on the 8th March, we ask you to please submit your online request by 1st March to enable us to send your items in time. To order your items, log into the IBMS website and complete the online typeform. We also provide free downloadable posters and leaflets for non-members.
Stuck for activity ideas? Have a look at our online gallery of last year's events for inspiration.
The Healthcare Science Week website has an activity toolkit, fun posters and a guide to help scientists get inspired for the week. You can follow the weeklong events on Twitter using the hashtag #HCSweek19 and use it to promote your events.
If you're planning events for Healthcare Science Week or British Science Week, get in touch with us at pe@ibms.org and we might cover your event in a news story.
Back to news listing