Women: a cartography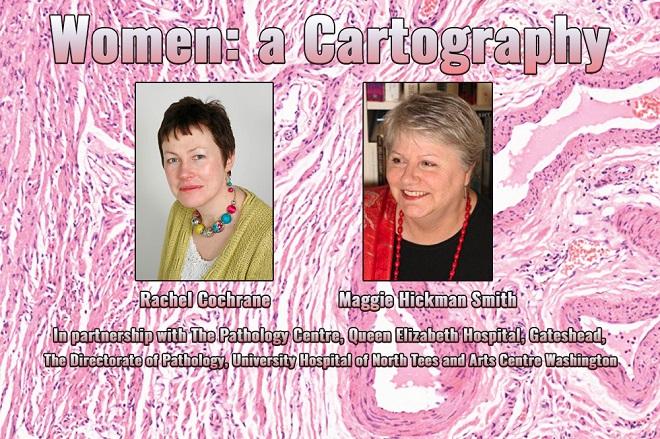 16 September 2019
An exhibition on the visual and creative interpretation of cellular pathology specimens

Through our regions and branches network, the IBMS supports biomedical science events around the country:

Women: a Cartography is a mixed media exhibition of creative work inspired by the hysterectomy and mastectomy cellular pathology specimens of artists Rachel Cochrane and Maggie Hickman Smith. The artists have worked closely with the cellular pathology departments at North Tees and Hartlepool NHSFT and The Queen Elizabeth Hospital, Gateshead. They hope to reveal to the general public the essential component of diagnosis that is not ordinarily seen or acknowledged – the biomedical scientist's interpretation of microscopic images, and the beautiful patterns of disease that are invisible to the naked eye.

IBMS Fellows Sharron Pooley and Chris Charlton are supportive of the project and have given the artists laboratory tours, allowed them to see their specimens under the microscope and helped them to understand and select images for creative interpretation and display. The IBMS also offered some funding towards the exhibition at the regional level as it is a unique collaboration between artists and the laboratory. It will bring together the art and science which explores the development in our understanding of the human body and showcase essential components of diagnosis not ordinarily seen or acknowledged.

Sharron Pooley FIBMS said:
"This is a unique example of patient and laboratory collaboration that should be celebrated. As well as helping women understand the cellular pathology behind some of their procedures, the artworks will bring the biomedical science behind healthcare to the attention of the general public."
The project will also explore the connections between art and science (specifically cellular pathology) and how approaches in both disciplines have changed since da Vinci's time. Through their work the artists will demonstrate that the human body is extraordinary and, just as da Vinci opened up the understanding of the intricacies of the human body in his time, they will show that current developments in pathology break new ground.

Rachel and Maggie will make a personal response to their own specimens through a variety of creative techniques old and new: from drawing with gall wood ink transferred to fabric to digital photography and film. Through their creative work, the artists will show how the development in our understanding of the human body has moved forward – from da Vinci's anatomical drawings across the 500 years to the latest digital imaging of microscopic cellular pathology.

The exhibition will be shown in the main gallery at Arts Centre Washington (part of Sunderland Culture) from 27th September to 28th October 2019 and will be open to the general public with free entry.
Read the Sunderland Echo's review and interview with the artists>>
Back to news listing