World Cancer Day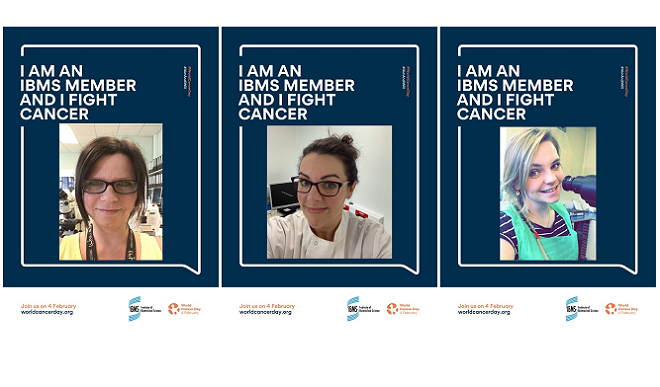 4 February 2019
Meet four IBMS members who help to fight cancer in laboratories every day



Hayley Pincott, associate practitioner


I feel very fortunate to be based here in Oral Pathology at the University Dental Hospital in Cardiff. Being such a specialist department we often see cases that aren't usually dealt with in typical hospital laboratories. We are also involved in research work and therefore have great relationships with an interesting and diverse network of healthcare professionals. For instance, we recently had a request for tissue from a research facility in America that is hoping to carry out tests for molecular profiling. Their work will help to identify tumour types and drugs that will deliver positive outcomes for patients.
In my general day to day work, I usually work on small biopsies that have been taken for initial diagnosis. Most of these will be suspected squamous cell carcinoma (SCC). Cassettes of selected tissue are processed overnight then I embed the tissue into wax moulds and cut them into one cell layers on a microtome. Once I have formed a ribbon of tissue sections, I float them out on a water bath. The warm water helps to flatten them out so they are easier to place onto a slide. They are then stained with our routine haematoxylin and eosin (H&E) stain so that we can see the cells under a microscope.
When we receive a mandible resection it can take about 3 weeks to produce a report as it has to go through our decalcification process before any tissue can be taken. The mandible is placed in a solution of formalin and acid for a few days then gets moved to acid for about 2-3 weeks to complete the process. Once cassettes of tissue have been taken the processes in the laboratory are the same as soft tissue.
Often the tongue, larynx and floor of mouth resections come with either one side of the neck or a bilateral neck dissection depending on where the tumour is in the primary specimen. The neck biopsy is taken so we can look at the lymph node to see if the cancer has spread.
Before I issue slides out to the pathologists for reporting I check to see if the stain is of a high enough quality and whether it is staining the cellular structures it's meant to. For instance, I look to see if I can see chromatin detail within the nucleus. I also look at the quality of the section of tissue, making sure that there aren't any knife scores and that I have all the tissue on the slide.
Sometimes, after I've issued the slides out for reporting, I will get a request to cut some more tissue for immunohistochemistry (IHC) - producing types of specialist stains to see the antigen/antibody interaction on the tissue. From this it's determined which type of cancer the patient has.
When the pathology report is authorised a patient's case is discussed at a multidisciplinary team meeting and then, if surgery goes ahead based on the diagnosis, we go on to analyse specimens such as tongue, larynx, floor of mouth, neck and also mandible resections. This secondary process ensures an accurate diagnosis so that the patient is able to have the best possible cancer care.




Zoe Andrews, Medical Laboratory Assistant

I'm currently working in Microbiology while completing my foundation year. I will be starting a biomedical science degree in September. I help to run the Faecal Immunochemical testing for bowel cancer. It's a new way of testing for blood in the lower gastrointestinal tract.
Living on an island, the population is quite small so we have the added bonus of being quite hands-on with patients should they need help or have any questions.
I have two cohorts. One is for the bowel cancer screening program which is a specific age range who will be posted out the test. The other is symptomatic patients who have been given the test via their GP. We only started the new testing in June so it's all a learning curve for everyone involved but it's our 'baby' and it's making a positive change.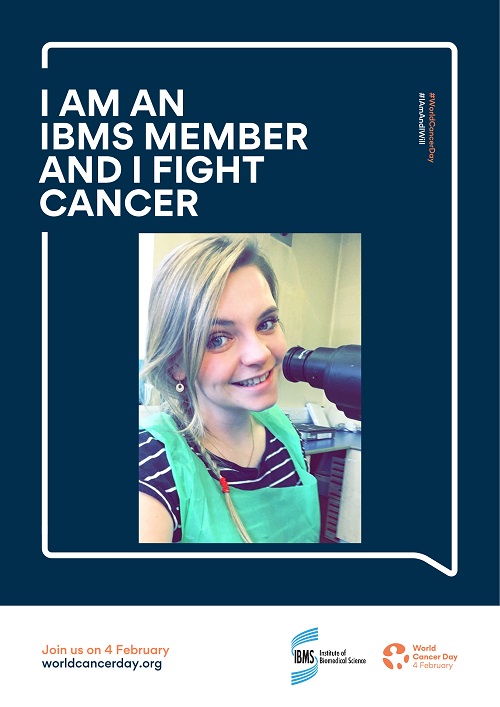 Jenny Keen, Biomedical Scientist

I work in a busy histopathology laboratory and am about to take the examination for Specialist Portfolio in Cellular Pathology.
To combat cancer, I prepare tissue from all sites of the body for microscopical examination. To do this I dissect the tissue ensuring the most important areas are sampled. The tissue is then processed and embedded to allow thin sections to be taken. These one cell thick sections are cut and then stained with a haematoxylin and eosin stain to then be viewed under the microscope. Doing this enables pathologists to identify normal and abnormal tissue such as tumours, inflammation and areas of necrosis.
I also carry out immunohistochemistry and special stains which are specialist techniques that aid in the diagnosis, treatment decisions and prognosis of the patient.
Biomedical scientists in histology enable tumours to be identified, their area of origin to be determined and the best possible treatment for each patient to be decided. When a patient is given the all-clear - whether they've had a core taken, a biopsy or a radical surgery such as a mastectomy - a team of biomedical scientists have made that tissue diagnostically reportable and enabled that result to happen.
I am very proud of what I do and I feel honoured to be able to say that I help fight cancer.


Siobhan Taylor, Clinical Scientist, CSO WISE fellow 2018
I work within a large team in the histology laboratory where we process and analyse cells within tissue specimens to diagnose disease. In my role as HER2 Lead scientist, I organise and manage the HER2 service: using highly developed scientific, technical and analytical skills to test cells from breast cancer specimens, determining patients' suitability for biological and hormone therapies. My role requires strong leadership and effective communication across multiple staff groups, and strategic assessment of pathways with a focus on the delivery of a timely and effective service. I contribute to the development of my colleagues through training and mentoring. Together we work as a team to combat cancer, ensuring our patients get the right diagnosis and the most suitable treatment.
Back to news listing