Going viral: @zoestudies on becoming an Instagram star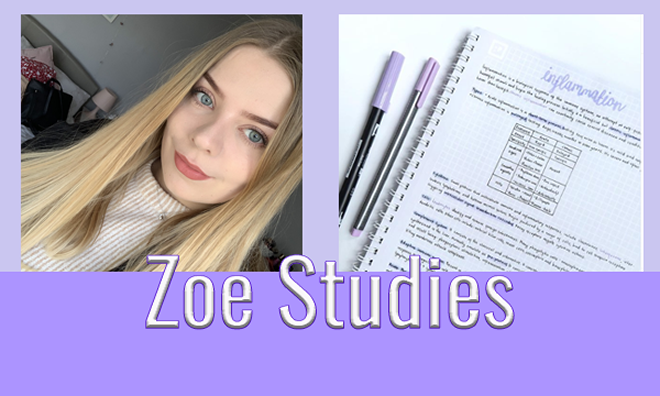 7 February 2020
We chat with Zoe, IBMS member and recent Instagram sensation about her new-found fame on social media
IBMS eStudent Zoe made the headlines this year with her blog and Instagram account featuring notes from her biomedical science lectures at Cardiff University. With over 54,000 Instagram followers, we took the chance to chat with Zoe about her success.
Tell us a little bit about yourself. How are your academic studies going?
Zoe said:
"I decided to study biomedical science as I wanted something that didn't limit my career options and provided many pathways. I learned that a degree in biomedical science can lead to lots of different careers in science and medicine, so this was a fit for me. I'm now in my second year at Cardiff, and I'm actually doing a placement year starting September 2020 in the Division of Infection and Immunity in the University Hospital of Wales which is exciting! I'm also hoping to get some work experience in a microbiology laboratory in the summer before starting that."
What inspired your blog and Instagram account?
"I started my Instagram account after not doing too great in my A-Levels at my sixth form. I decided to re-sit them and go to college and started my account from there as I really needed a form of motivation, and it really has worked! Creating my account has allowed me to find new ways to make notes which work for me and keep me on track when it comes to revision."
Are you an influencer?
"I wouldn't consider myself an influencer personally, but I have had so many messages saying how helpful my account is, and how it's inspired people to make notes like mine and even start their own accounts. I've received a few opportunities, but the most exciting is working as a Digital Ambassador and UniBuddy at my University now, so I write blog posts and answer questions from prospective students.
In terms of my blog, it has definitely seen more traffic and I'm always getting requests from people of what they want to see."
What are your future plans?
"I'm not 100% set on what I want to do with my degree yet so I'm seeing what happens after my placement year. I'm not sure whether to do a masters, maybe a PhD after, or whether to try and get into the NHS Scientist Training Programme.
My advice to any future biomedical students who want to follow in my footsteps would be to make your own decisions in terms of your studies and find what works best for you when it comes to revision. If you want to make an account posting pictures of your notes or start a blog, don't be scared to, just do it! The whole community is so supportive and there's always people willing to help."
You can read Zoe's blog or catch her latest Instagram post at @ZoeStudies.
Back to news listing