Celebrating the NHS at 70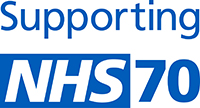 The IBMS is celebrating the 70th anniversary of the NHS in 2018 with a range of activities happening throughout the year culminating in national birthday celebrations on 5th July. We will also be using the opportunity to promote the Institute's support for the NHS since it was established and the role of our members and biomedical science in the nation's healthcare.
This page will continue to be updated with further information and guidance on how our members can get involved in the celebrations, we will also inform members through our social media and newsletter communications.
---
How NHS biomedical science staff can celebrate NHS 70
To get involved, you are encouraged to talk to your communications departments. They are expecting to hear from hospital staff and will the resources to help you plan and promote your events.
We encourage you to discuss opening up your laboratories and places of work by giving tours to the public or promoting your work through public engagement activities that will be held throughout hospitals. You could also hold external events, such as talks and school visits. To support your activities, we have a range of public engagement activities and promotional items we can supply you.
---
Parliamentary awards
Place your nominations and celebrate the important role of biomedical science
As part of this year's milestone in the history of the NHS, we are encouraging our members to nominate an individual, team or organisation that has made a difference in healthcare for an NHS70 Parliamentary Award.
The categories include:
The Excellence in Cancer Care Award
The Person-Centred Care Champion Award
The Future NHS Award
The Healthier Communities Award
The Patient and Public Involvement Award
The Lifetime Achievement Award
How to apply
To apply, you can give your nominations to your local MP. They will receive and consider potential nominations from their local health and care organisations, and then choose who to officially nominate for a national award before the nomination window closes on Friday 23rd March. More information on the application process is available online.
The winners will be announced at an awards ceremony in Parliament on Wednesday 4th July – the day before the NHS' 70th birthday.
On the 5th July, there is a national ceremony planned for 2,500 NHS staff to attend as well as important figures from NHS, MPs and the Prime Minister.
---
NHS and the IBMS History
The IBMS is commemorating the 70th birthday of the NHS by working in collaboration with NHS 70 and NHS at 70 to collect stories and oral histories from our members.
This year we have also held the first IBMS History Week, where we promoted the stories of our members about working in the NHS.