Celebrating the NHS at 70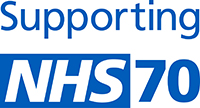 The IBMS is celebrating the 70th anniversary of the NHS in 2018 with a range of activities happening throughout the year culminating in national birthday celebrations on 5th July. We will also be using the opportunity to promote the Institute's support for the NHS since it was established and the role of our members and biomedical science in the nation's healthcare.
This page will continue to be updated with further information and guidance on how our members can get involved in the celebrations, we will also inform members through our social media and newsletter communications.
---
NHS and the IBMS History
The IBMS is commemorating the 70th birthday of the NHS by working in collaboration with NHS 70 and NHS at 70 to collect stories and oral histories from our members.
This year we have also held the first IBMS History Week, where we promoted the stories of our members about working in the NHS.