Alison Geddis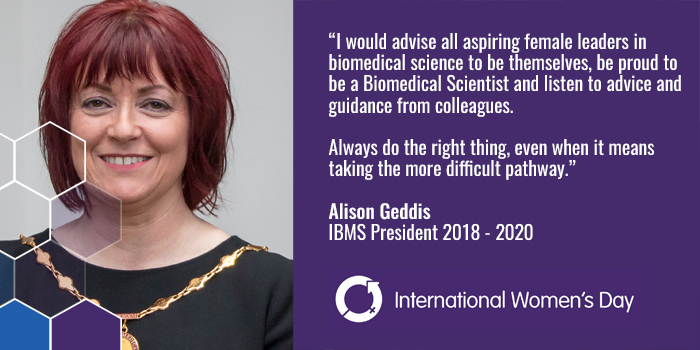 Alison Geddis is the second female president in the history of the IBMS, and the first from Northern Ireland. She is also the Laboratory and Donor Services Manager at the Northern Ireland Blood Transfusion Service in Belfast.

Who or what inspired you to pursue a career in biomedical science?
When I first started work I was trained and educated by a number of very professional biomedical scientists. It was their professionalism and enthusiasm that made me want to be like them and pursue a career in biomedical science.

What was your route into the profession?
I started my career straight from school. I trained while I was working full time, spending time at college and then university in six week blocks at a time.

What challenges have you faced in your career to date?
I have faced many challenges over my career to date, the main challenges have been around juggling studying with full time work, participating in on-call service provision, being involved with the IBMS at both a local and national level whilst having a husband and two daughters to look after and support. More recently my challenges have been about maintaining an adequate blood supply for Northern Ireland during staff shortages and poor weather problems.

What has been your greatest professional achievement so far?
My greatest professional achievement so far has been being elected by my fellow IBMS Council members to become the current President of the IBMS.

What advice would you give to aspiring female leaders in biomedical science?
I would advise them to be themselves, and to be proud to be a biomedical scientist. Listen to advice and guidance from colleagues, and always do the right thing even when it means taking the more difficult pathway.