Bushra Ahmed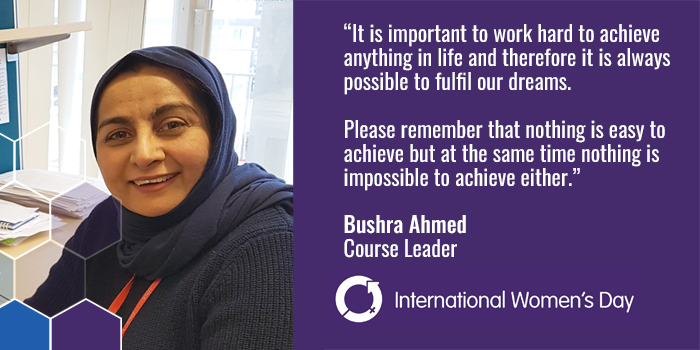 Dr Bushra Ahmed is the Principal Lecturer in Biochemistry, Portfolio Leader for Postgraduate, Undergraduate & Foundation Courses and Pharmacology Course Coordinator for the School of Life Sciences at the University of Bedfordshire.
Who or what inspired you to pursue a career in biomedical science?
I am very much inspired by my university teachers, they always provided me right guidance and I have learned a lot from them; they were and still are always there to guide me.
What was your route into the profession?
I went through a usual University education including BSc Hons, Masters followed by PhD and postdoctoral studies. I have studied in several countries including Pakistan, Japan, USA, The Netherlands and UK. I have learned a lot from all departments/labs where I have been. I feel myself lucky for attending the most prominent higher education institutes in the world.
What challenges have you faced in your career to date?
Well, the biggest challenge was to go abroad for higher education. I was crazy about studying in Neuroscience field and wanted to do PhD in brain injury related topics, which at that time was not easy to do in Pakistan. I had to struggle a bit as I was a girl and no other girl in the family or should say among relatives had gone abroad by her own. I was eventually able to go but with a bit of difficulty.
What has been your greatest professional achievement so far?
The greatest achievement for me was getting the scholarship from Ministry of Science & Technology Government of Pakistan to go abroad for PhD studies in Japan. It undoubtedly has helped me to achieve my dreams.
What advice would you give to aspiring female leaders in biomedical science?
It is important to work hard to achieve anything in life and therefore it is always possible to fulfil our dreams. Please remember that nothing is easy to achieve but at the same time nothing is impossible to achieve either.