Jo Horne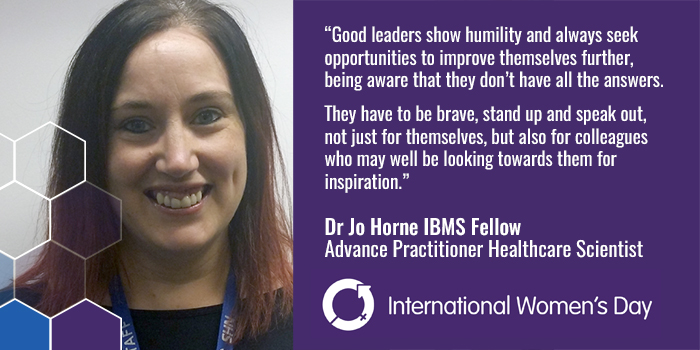 Dr Joanne Horne is an Advanced Practitioner Healthcare Scientist in histopathological dissection and reporting at the cellular pathology department at the University Hospital Southampton NHS Foundation Trust.
Who or what inspired you to pursue a career in biomedical science?
As a child I wanted to be a vet, and was fascinated with anatomy and physiology from a young age.
My father used to bring home whole animals from the butcher, which he would cut up and store in a big chest freezer. Ironically, I became a vegetarian in my mid-teens, choosing not to eat the meat we prepared, but I always helped him with the 'dissection'!
In my teens, my grandmother died of bowel cancer at a reasonably young age, and the cruelness of this stayed with me, confirming that I wanted to pursue a career in a medical related profession.
I applied for Biomedical Science after attending a careers day at my local university where I was inspired by the enthusiasm of the histology lecturer.
What was your route into the profession?
I completed my BSc in Biomedical Science at the University of Portsmouth in 1997, and accepted a post as a trainee Medical Laboratory Scientific Officer in histology at Southampton.
I completed the old 'blue book' route to registration, becoming registered one year later. I then studied for an MSc in Biomedical Science part time, again at the University of Portsmouth, whilst continuing to work at Southampton.
Soon after completing this I was appointed to a senior post. Initially I followed the traditional pathway into management, completing a Postgraduate Certificate in Management in Health and Social Care at the University of Winchester, but I knew that this wasn't really for me and that I wanted to pursue a more clinical pathway.
I was given the opportunity to formally train in histological dissection, gaining the IBMS/RCPath Diploma of Expert Practice in Histological Dissection in 2009. In the same year I began my Professional Doctorate, again at the University of Portsmouth, designing and leading a research study in bowel cancer diagnostics.
In 2010 I was appointed to my current post as an Advanced Practitioner in histological dissection, and in 2012 I was accepted onto the new RCPath/IBMS pilot scheme for BMS histopathology reporting.
2015 was a big year for me, because I gained my professional doctorate and also passed the stage C exam in reporting! I completed the final stage D of reporting training in 2017 and am now able to independently report gastrointestinal histopathology specimens.
What challenges have you faced in your career to date?
I have faced numerous challenges during my career. Before beginning formal training in histological dissection, I applied for the post of histology section manager and was not appointed. At the time, I felt like everything had gone wrong in my career and I honestly didn't know what I was going to do next.
The truth is that I was meant to pursue a more clinical career pathway, and management was not for me - I simply couldn't see it at the time. I honestly believe that things happen for a reason, and the right path will eventually become clear.
Training in dissection and reporting has led to considerable challenges, both personal and political in nature. These have been amplified because I was the first scientific dissector within my department, and the first in the UK to pass the final reporting examination.
Finding myself at the forefront of these areas of workforce transformation for biomedical scientists has been exciting, but I have faced many of the political and practical barriers which have to be addressed when developing any new training programme - especially when it involves workforce redesign and encroaches into the roles of another professional group.
One of the greatest personal challenges has been finding the time to perform my day job whilst also studying for one or more qualifications, especially as there was no backfill for my existing role during training. I have had to make sacrifices in my personal life to reach where I am today, but I have few regrets.

What has been your greatest professional achievement so far?
My greatest professional achievements so far are being awarded my Professional Doctorate in Health Science in 2015, and successfully completing the training programme in histopathology reporting, passing every stage at my first attempt.
Although I worked incredibly hard to achieve these successes, I could not have done so without the support of my supervisors, colleagues and friends.
What advice would you give to aspiring female leaders in biomedical science?
I would advise aspiring female leaders to firstly know what their aims and goals are, to fully commit to achieving them, and to accept that it will probably involve some personal sacrifice.
This doesn't mean not having a personal life – in fact, it is essential to have interests and passions outside of work. It is important to recognise strengths and weaknesses - working to minimise any areas of weakness, whilst also remembering to celebrate strengths and successes.
I have found that resilience building has been a useful improvement tool for me, especially as my career develops. As well as this, having a mentor who sits outside of my own department has been really helpful, and I would recommend this to any aspiring leader.
It doesn't have to be a woman, but mine is, and I have found this to be beneficial. It was also pointed out to me recently that as women we can be naturally quite apologetic in our behaviour and that we may also display a number of other traits that unconsciously hold us back in our careers.
I would encourage any aspiring female leader to explore these themes and seek out methods to improve any habits that they may not be aware of, for example, body language and other unconscious behaviours.
Aspiring leaders should find themselves in a position to challenge the status quo and drive change, and this is often associated with barriers and people saying 'no'. It is important to not accept 'no'as an answer, to challenge people by asking for evidence to support negative decisions and to seek out innovative solutions when problems are identified.
Leaders must set a good example to those around them, especially when nobody is looking! They have to be brave, stand up and speak out, not just for themselves, but also for colleagues who may well be looking towards them for inspiration. Good leaders show humility and always seek opportunities to improve themselves further, being aware that they don't have all the answers.
Essentially, leadership isn't the same as management, but is actually about inspiring people to do better and to feel valued in the process. It's about creating time and space to enable and support colleagues to succeed, irrespective of where they sit in terms of managerial hierarchy or professional group.