Jocelyn Germain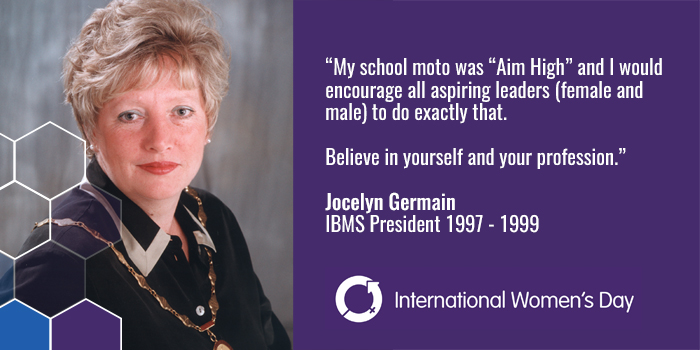 Jocelyn Germain was the first female IBMS President, from 1997-1999. Before her retirement in 2000, she was Senior Chief Biomedical Scientist of the department of Oral Pathology at London Hospital Medical College.
Who or what inspired you to pursue a career in biomedical science?
I knew I wanted a career in science so a family friend organised a visit to the laboratory at my local hospital (Lewisham) and I was hooked.
What was your route into the profession?
As a 17 year old Student Technician (see photo), I spent 3 years rotating through all departments before taking my Intermediate Exam, then specialised in Histopathology taking my "Final", HNC and "Special Examination" for Fellowship. Later in my career I was awarded an MPhil in Pathology from the University of London.
What challenges have you faced in your career to date?
Gaining permission for day release to do my HNC. This had not previously been necessary as
"Final" classes were always in the evening.
On a more light-hearted note, finding a way of wearing the IBMS President's chain of office, which only had fittings for a male suit jacket!
What has been your greatest professional achievement so far?
Being elected President of the IBMS was a great achievement for me. I was thrilled to lead two IBMS Congresses during my 3 year term as well as Pathology 2000. The latter was organised jointly by the Institute, the RCPath, ACB and ACP which led to the formation of the Pathology Alliance. I was also delighted to be involved in the formulation of LR White and LR Gold resin and the setting up of the London Resin Company in 1981, which is still trading today.
What advice would you give to aspiring female leaders in biomedical science?
Believe in yourself and your profession. My school moto was "Aim High" and I would encourage all aspiring leaders (female and male) to do exactly that.