Michelle Martin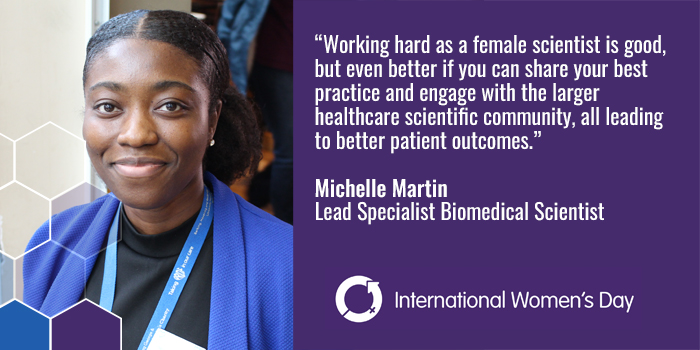 Michelle Martin is a Lead Biomedical Scientist in haematology and blood transfusion at Barking Havering and Redbridge University Hospital NHS Trust.
Who or what inspired you to pursue a career in biomedical science?
I was fortunate to get work experience whilst in college at Kings Hospital , where I was placed on a Haematology ward for a few weeks. I got to engage with patients with Haemoglobinopathies and their families especially patients with Sickle cell anaemia and found the whole experience fascinating. This sparked a specific interest in Haematology and Blood transfusion. I did not actively choose a Biomedical Science pathway, I had a love for science and wanted to work in the NHS so it all worked out and everything connected to leading me to where I am today.
What was your route into the profession?
I did an accredited 4 year co-terminus Biomedical Science Degree (Hons) at the University of Hull with a 1 year placement where I gained my HCPC registration.
What challenges have you faced in your career to date?
I was in the first cohort of newly created Certificate of Competence Registration portfolios trainees and again when doing my Specialist Diploma. Working in laboratories that was still getting their heads around the change in training, which meant at times it was very difficult. In house training was never an issue as laboratories have been training people and assessing competence even before it became an official requirement. However, formalising this was new so I faced a few challenges. I am actually grateful for the experiences as it is why I am passionate about training and empowering the future work force. I really enjoy supporting staff through various qualifications and training requirements and doing the best I can to share my experiences so others don't have to struggle and can do the role they enjoy.
What has been your greatest professional achievement so far?
The CSO WISE Fellowship is my greatest professional achievement to date. Chief Scientific Office (CSO) and Women in Science and Engineering (WISE) launched a fellowship. NHS England announced the four successful recipients of the first Chief Scientific Officer's (CSO) Women in Science and Engineering (WISE) Fellowship scheme. Following a highly competitive selection process I was one of the successful fellows.
The CSO WISE Fellowship Programme is a bespoke initiative, launched in partnership with WISE the campaign to promote women in science, technology and engineering.
The competition, launched in conjunction with international women's day in March 2016, and attracted 60 applicants from female healthcare scientists.
The Chief Scientific Officer's WISE Fellowship is a unique opportunity for mid-career female healthcare scientists to gain invaluable leadership experience. Successful applicants were selected based on both their potential to make a difference in their current and future roles in addition to their commitment to inspire the next generation of healthcare scientists.
What advice would you give to aspiring female leaders in biomedical science?
My advice would be to be bold, come to the table and make your voice heard. Be confident to vocalise your ideas and don't be afraid contribute to improvements and innovative ways of working.
I would also say it is not just important to work hard as female Scientist; you also need to be mindful of your image and have an active role in building your network. Working hard is good, but even better if you can share your best practice and engage with the larger healthcare scientific community, all leading to better patient outcomes.