Caroline Parkes
We ask our female members 10 questions about their careers in biomedical science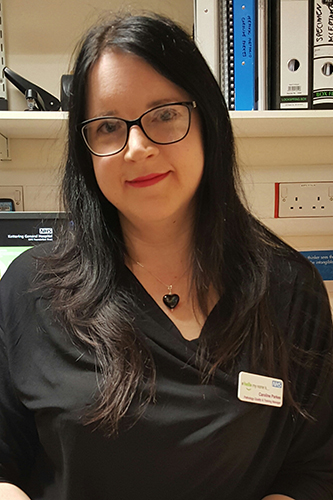 Caroline Parkes has worked at Kettering General Hospital NHS Foundation Trust for over 27 years; as a Biomedical Scientist in Cellular Pathology for 26 years, and for the last 18 months as Pathology Quality & Training Manager. She's also a STEM ambassador.

1. What made you decide to become a scientist?
I loved science at school and always enjoyed finding out why things happen, and I'm a naturally nosy person with an aptitude for attention to detail. Plus I am terrible at languages.
2. Who has inspired you?
My secondary school science teacher, Ms Friedrichsen. She was an awesome woman who made science really interesting and fun and encouraged us all to work hard and conscientiously. I always remember her telling us that "there is no such thing as the wrong result to an experiment, it's the result you get and you have to explain it" and also not to cough over the Petri dishes!
3. What has been the toughest challenge you have had to overcome in your career?
Every day is a challenge. It's a challenge to juggle all the different projects, improvements and co-ordination of UKAS inspection visits to the lab with the day to day queries that come through the door. Sometimes it's a big challenge dealing with conflict and difficult people but I've found that seeing the best in your colleagues and encouraging them really works. Everyone has something to contribute.
4. What was the worst setback you have experienced so far?
Being promoted back in the 1990s! This wouldn't normally be seen as a setback but being promoted to Senior Biomedical Scientist in a department where I had been working since I was 18 and was seen as the "baby" was actually very difficult.
5. What is the best moment of your career to date?
Creating my Quality Team, we are a team of three with overlapping roles and work really well together. Also receiving compliments from UKAS inspectors about my knowledge and enthusiasm.
6. What do you love about your work?
Where do I start?! I always go home with a smile on my face... I love that I learn something new every day, about new techniques (last week it was MALDI-TOF - Google it) or about people or ways of working. I love helping my colleagues when they come to me with a query and I can tell them where to find a document or help with an incident investigation. I love that I can make things happen and instigate changes that can improve patient care. Also, I love the people I work with, which is why I've stayed in the same place for so long.
7. What are the funniest things you have seen in your line of work?
Some of the clinical details on request forms - the clinical details can sometimes be hilarious, bewildering or both at the same time!
8. What are your future career plans?
To carry on doing the job I'm doing and change things for the better for patients and staff; although part of me would love to be Document Manager for the whole Trust. I do love a good policy. It's all in the wording. It's very satisfying to write or amend something that makes sense in readable plain English and genuinely can help someone do their job better.
9. What advice would you give to aspiring female scientists?
Go for it and follow your dreams, I've grown up surrounded by female scientists in the workplace so being a woman has in no way seemed like a barrier at all. Don't be afraid to have and share your own ideas and embrace change.
10. Anything else you would like to share?
Homemade cake at meetings is always a winner, I also used homemade cake as a prize draw incentive to user surveys, and responses to one survey went up by 400%. Cake is not bribery, it's a performance incentive. Also, I'm a big advocate of positive thinking, I have a quote on my office wall: "The positive thinker sees the invisible, feels the intangible and achieves the impossible".