Julie-Ann Gibson
We asked our female members to tell us what inspired them to work in biomedical science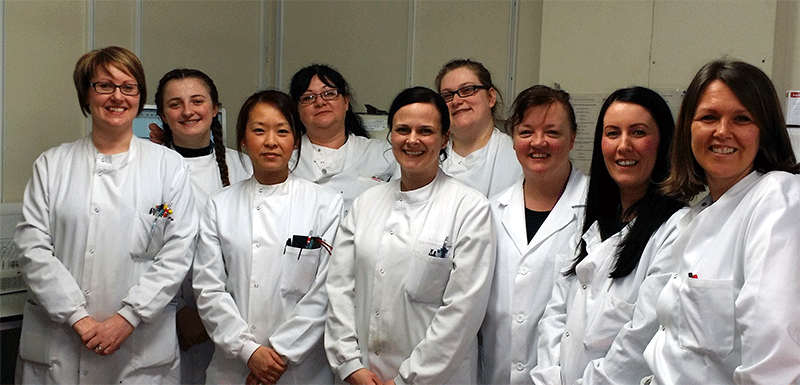 Julie-Ann Gibson is a student portfolio verifier and is hoping to join the Scottish Microbiology Association (SMA) committee where she will be membership secretary. Julie is pictured above with her female colleagues at the NHS Lanarkshire Microbiology Department.
What inspired you to become a biomedical scientist?
My name is Julie-Ann Gibson. I'm 39 years old and I am a Senior Biomedical Scientist in microbiology in NHS Lanarkshire. I have had a keen interest in science ever since I was very young due to my nephew having a severe form of muscular dystrophy. Seeing all the work that the doctors and scientists put in to diagnosing my nephew and supporting my sister inspired me.


How did you get into biomedical science and qualify as a biomedical scientist?
After having my three daughters at a young age and with the support of my husband I signed up to start my NC in Biomedical Science at the age of 22 at James Watt College. Three years later completing my HND, and gaining an annual award and 6 merits, I went to university. I received a distinction for my degree and a 2:1 for my honours degree in Biomedical Science.
I started my training to become a registered Biomedical Scientist shortly after completing my honours degree in microbiology at the Royal Alexandra Hospital in Paisley, where I worked for 10 years. Within this time I completed my master's degree and my specialist portfolio in medical microbiology and spent a lot of time with a variety of trainees and students as the laboratory was a teaching lab.
My training manager was fantastic and was always there offering guidance and support. I would love to be able to offer the same level of support and guidance to fellow individuals who have a love for science, as well as my daughter Shannon who has decided to follow in my footsteps and is near completion of her degree in biomedical science.


Where are you now working?
Last year I saw an advert for a senior biomedical scientist/training manager in NHS Lanarkshire and I decided that it was the right time in my career for me to make a move and take on a new challenge. I applied for the job and was delighted to be offered the post. My new job involves me being the training manager for the three Microbiology sites of NHS Lanarkshire where I have again got great support from my fellow colleagues and staff and I am enjoying each new challenge I have to face.


How has being a member of the IBMS helped you?
I am currently enrolled in the IBMS certificate of practice in training so that I can update and manage my skills as a training manager. I am aiming to apply to be a chartered scientist soon and I would like to complete the IBMS Assessor course to round up my knowledge and skills. I feel that the IBMS has provided me with excellent opportunities to achieve my career ambition from college to university and into my workplace and I know that it will continue to set standards and offer opportunities for me to carry on progressing my knowledge skills and career.
What are your future plans?
To take up any opportunities that I can which will allow me to advance my career and I hope to encourage as many people - young and old to appreciate and love the world of biomedical science and see how it has a huge impact on patient care.
What message would you share to inspire other biomedical students?
I hope to inspire people to follow their ambitions. No matter what, if you really want to achieve something then you will with a little bit of hard work and determination. It is amazing the things you can achieve!